The growth and production of textiles for both apparel and for the home has been an ongoing, progressive industry since the early days of human civilisation. The importance of cloth in our daily lives has been and always will be paramount; from simple linens and muslins for drying ourselves and swaddling our new-borns to the heavily embroidered silks and luxurious velvets of royals. We live alongside fabric; it offers us comfort, beauty, practicality and nostalgia, all in a humble almost instinctive manner. However, in recent years textile production has started to take its toll on the planet, using vast amounts of water, energy, fertilisers and pesticides.
A step in the right direction: Tinsmiths is devoted to sourcing and promoting a product range which minimises the environmental impact of both production and distribution. We aim to maintain a 70% UK Made Homewares Range, sourcing products from local makers. Our Natural Fabrics reflect this commitment through a choice of natural fibres, in-house designs printed on 100% Linen in the North of England and our ever-growing range of post-consumer, recycled fabrics.
Our current Eco Fabric Range consists of a variety of patterns and plains in both standard and double widths; a good choice for any project.
Extra Wide Barnsley is a wonderfully versatile linen look Poly-Cotton made up of 100% recycled fibres. 1 metre of Extra Wide Barnsley recycles 4 plastic bottles and saves 2.6 litres of water and 465WH of energy.

Post-consumer cottons are collected and cut into small pieces so that the fibres can be obtained and spun into newly recycled Cotton yarn. The benefits during cultivation and production of recycled Cotton are monumental; there is a 55% reduction in water consumption compared to conventional Cotton and a 35% reduction in greenhouse gas and CO2 emissions.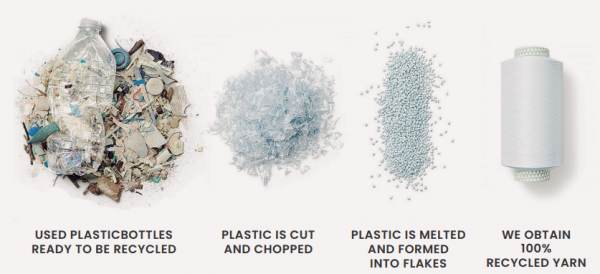 Similarly, used plastic bottles are gathered and cut and chopped, then melted and formed into flakes from which a 100% Recycled Polyester yarn is obtained. The energy needed to make the PES is less than the energy required to make the virgin polyester. Fabrics created from recycled polyester can be recycled again and again with no degradation of quality thus minimising wastage and preventing the plastic from ending up in our landfills and oceans.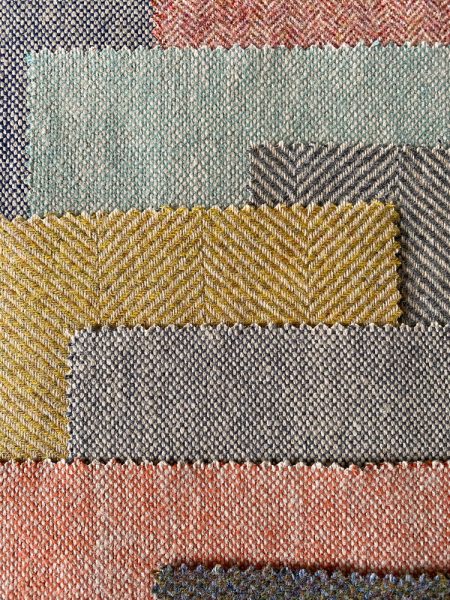 Another contender is our Ashmore Eco Fabric available in 5 great colours. The warp is made from recycled natural Linen and has been left unbleached and undyed, the weft is 'Recover'. Recover is a Global Recycle Standard Mixed Fibre made up of the aforementioned Recycled Cotton and Recycled Polyester (PES) and, according to the Higgs MSI index, is the lowest impact Cotton fibre currently available. The fibre combination makes the resulting fabric extremely robust and hard-wearing; with a 50,000 Martindale Rub test this cloth is fantastic for upholstery projects.
Amongst our Linen Furnishing Fabrics is a selection of unbleached and undyed Linens suitable for curtains, blinds and upholstery. Leaving the fabric as close to the natural fibre as possible, by not carrying out any bleaching or dyeing, massively reduces water consumption and chemical processes during the production of the cloth. Linen is extremely durable and so has the potential to last a lifetime and can easily be recycled into an entirely new cloth or paper or upcycled garments.
For older, draughtier houses or those with traditional interiors, our Wool Furnishing Fabrics are a tried and tested favourite. Mostly all woven in the UK, they are suitable for fixed upholstery and conform well to curves and padding. Wool is an excellent, planet-friendly option as it requires less or no chemical treatment for upholstery as it is inherently fire retardant. It also has a fabulous drape and does not hold a crease, making it an ideal candidate for larger curtains. In fantastic herringbones, plains, checks and plaids, these Wools would adapt well to serve as winter coats or clothing patterns that require a more robust cloth.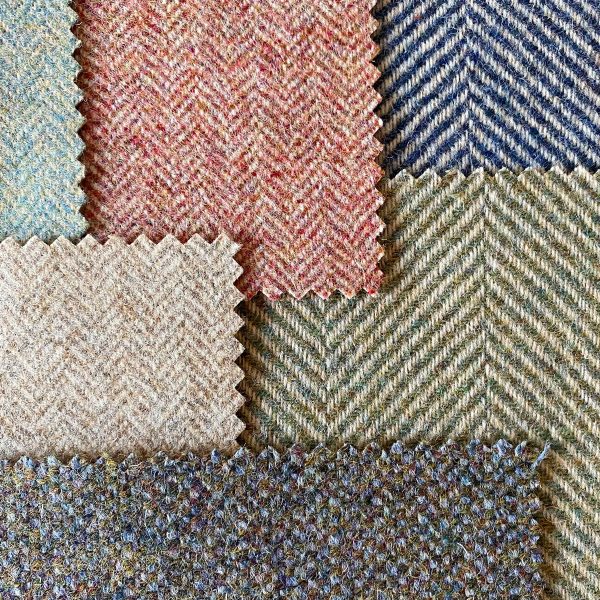 We actively promote recycling both internally and amongst our customers and suppliers; reducing our own waste by reusing our suppliers' packaging in our warehouse and by using up scraps and offcuts from our sewing rooms through various Homewares products. We have an ongoing sale of Remnants from our Fabric Shop which includes the last of discontinued lines to  pieces with small faults not used in larger projects; they are fantastically discounted and we recommend you snap them up while you can!
All facts and figures have been sourced from Global Recycled Standard