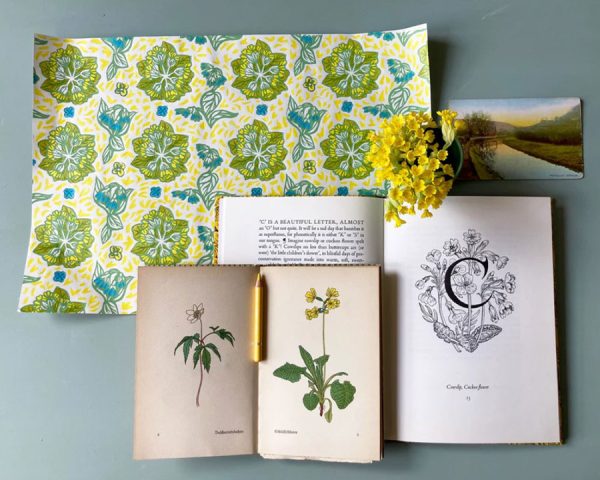 Visual artist, Susie Hetherington creates the most beautiful prints and patterns inspired by nature, elevating those small details which are only noticeable when we give ourselves the time to stop and truly look. Susie was therefore an obvious choice to invite to take part in next month's, nature-inspired Silva Exhibition.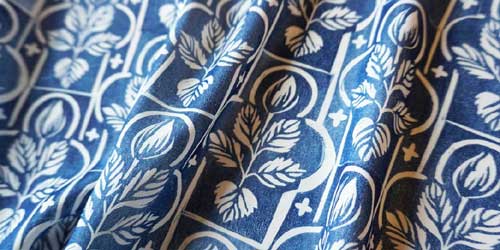 Based near Stroud in Gloucestershire, the varied and stunning surroundings of Susie's village on National Trust common land, form an important part of many of her designs.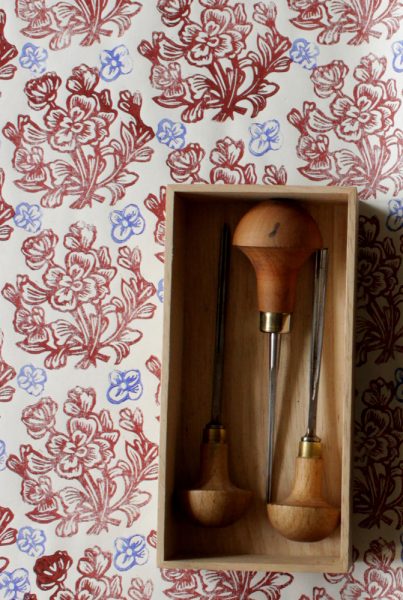 Using lino printing as her main technique, Susie takes the individual forms of leaves, flowers, and trees, and with a strong Arts & Crafts influence, combines these details into repeating patterns and prints. What might begin as a hand drawn study of nature, becomes more of a celebration through design; the process of seeing and appreciating things of beauty, then creating a repeat of these elements to magnify and elevate them into new forms with their own flow. Hand carving and hand printing some of the stages of her work allows Susie to keep an element of imperfection; to keep in closer contact to the nature that inspires it.
For the exhibition Susie has worked closely with Masterprinter, Martin Clark, at Tilley Printing in Ledbury to create and print the most wonderful poster which bears the name of the show.
Built up in lino-cut layers, the final result has a perspective which feels like you are being drawn into a wooded glen which resonates with the acid yellows and greens of Spring.  This poster is the perfect antidote for raising the spirits, especially in the depths of Winter when the eyes yearn for fresh colour. This has been a delight of a collaboration. When the exhibition launches on 3rd September, Susie's Silva poster will also be available to buy on Tinsmiths' website.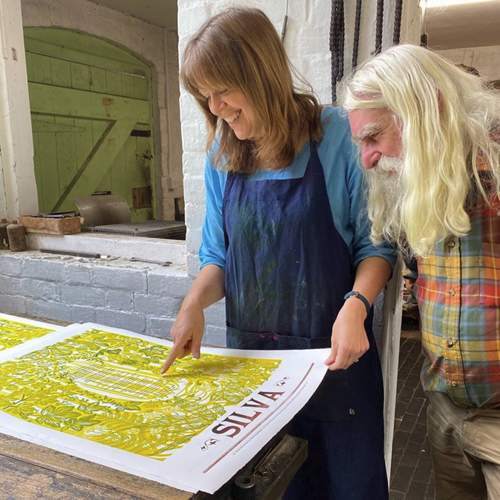 Susie Hetherington and Martin Clark pouring over Silva poster proofs at Tilley Printing
On our launch day, 3rd September 2022, Susie will be one of the makers in attendance at our Meet the Maker event (11am-1pm). This will be an informal opportunity to meet a few of the artists involved in the exhibition and chat to them about their work. Do come along if you can. Stuart Houghton will also be attempting his mammoth throwing attempt for charity: 100 squeeze jugs in two days, beginning on Saturday 3rd September 10am-4pm.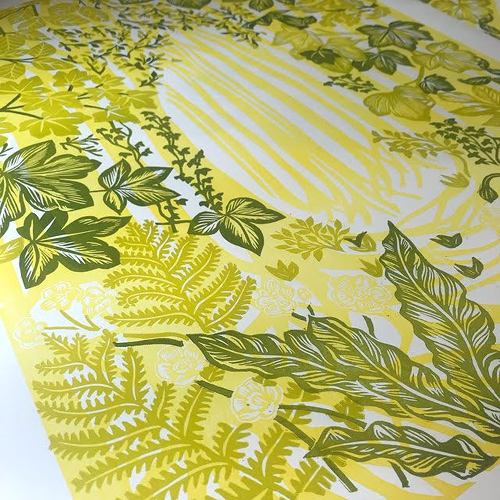 3rd – 30th September 2022
Heritage Centre, Church Lane, Ledbury
Opening times: during h.Art; Saturday 3rd – Sunday 11th September 10am-5pm
Thereafter, Wednesday to Saturday 10am-4pm