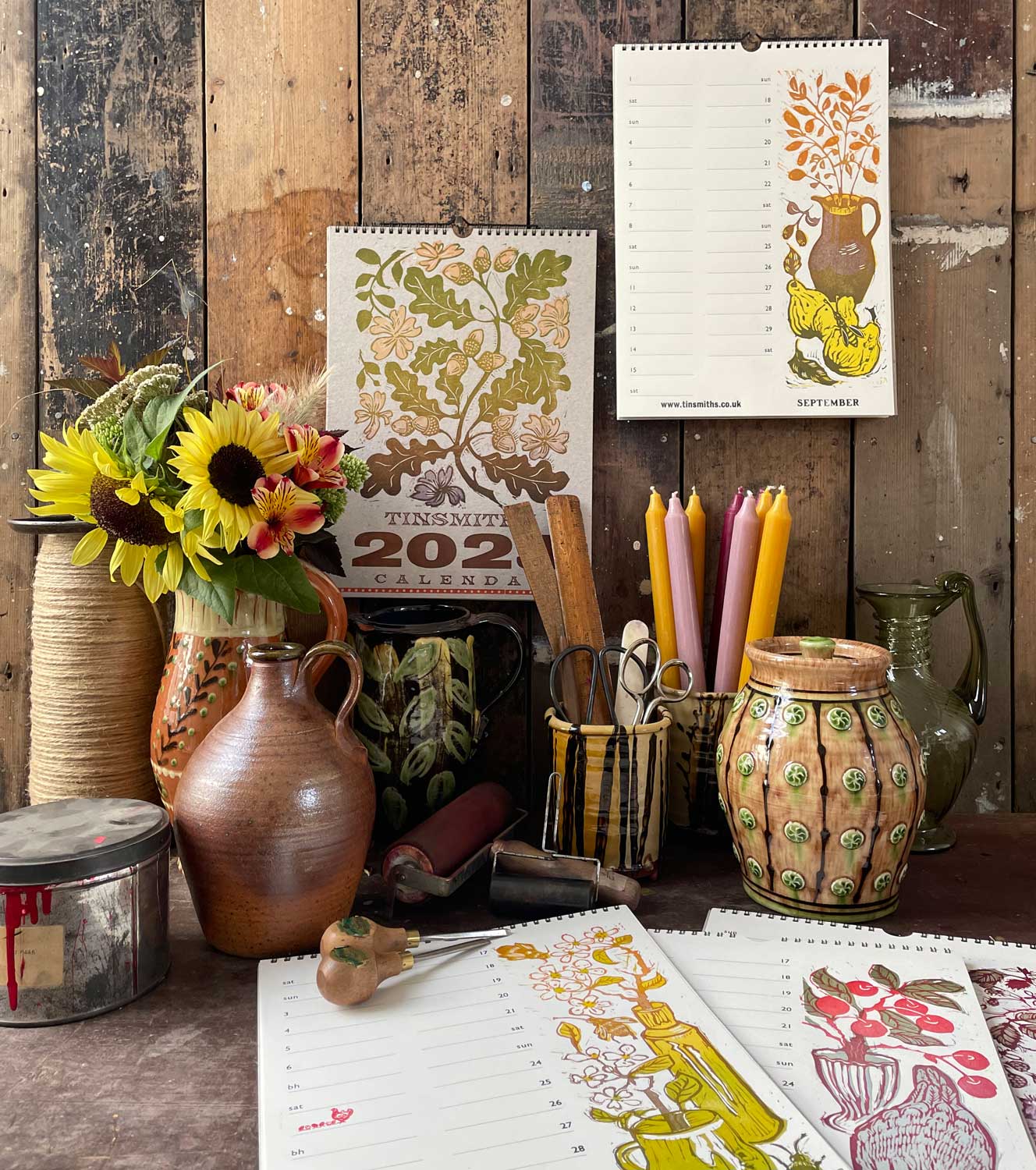 You may be glad to know that we have put together our much-anticipated Letterpress calendar for 2023; very ahead of schedule, we know! Working closely with Martin of Tilley Printing and local artist Jen Whiskerd, we have produced a calendar which celebrates the joyful ceramics stocked at Tinsmiths. This year's calendar has been an entirely Herefordshire-based effort, from printers to binder.
The Calendar will be launched on the opening of Tinsmiths' Silva Exhibition on Saturday 3rd September 2022. This exhibition will run from 3rd to 30th September 2022 at the Heritage Centre, Ledbury and is a showcase of pottery, wood and print. We only printed one limited run of calendars this year, so be quick!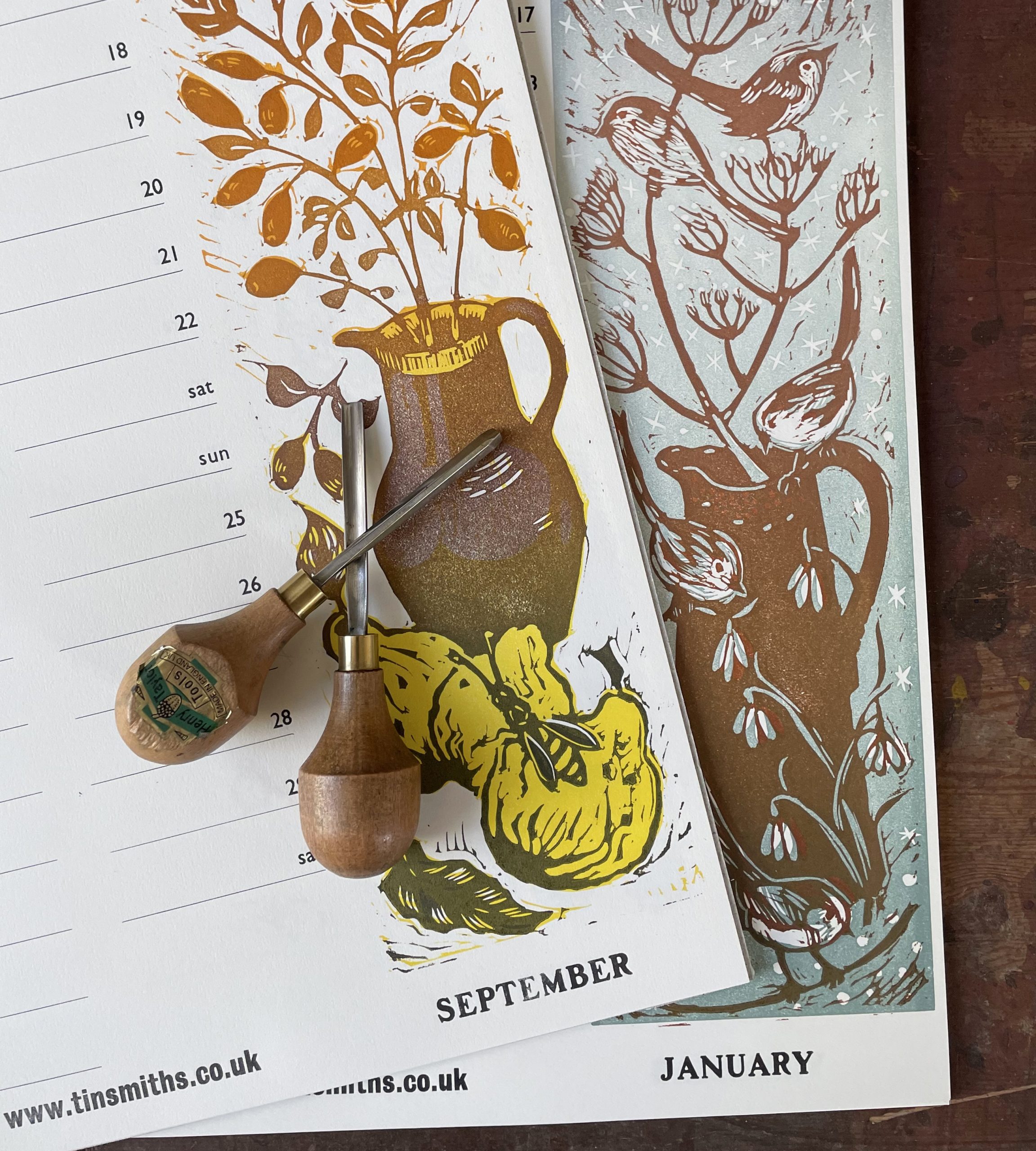 At the root of Tinsmiths is a passion for good design which stands the tests of time. We are not drawn towards trends or products that are 'in' and this shows in the range of fabric and homewares we have stocked over the years. We strive to provide a selection of beautiful, well-made products that will bring pleasure for years to come.
Tinsmiths has always sought to show an exciting range of ceramics from the best makers across the UK and Europe. Our hand-picked potters practise a combination of traditional making techniques and their own tried and tested formulas, and make with functionality in mind. These are pieces which they use in their own homes. Pieces which transition from the kitchen to the dining table with aplomb.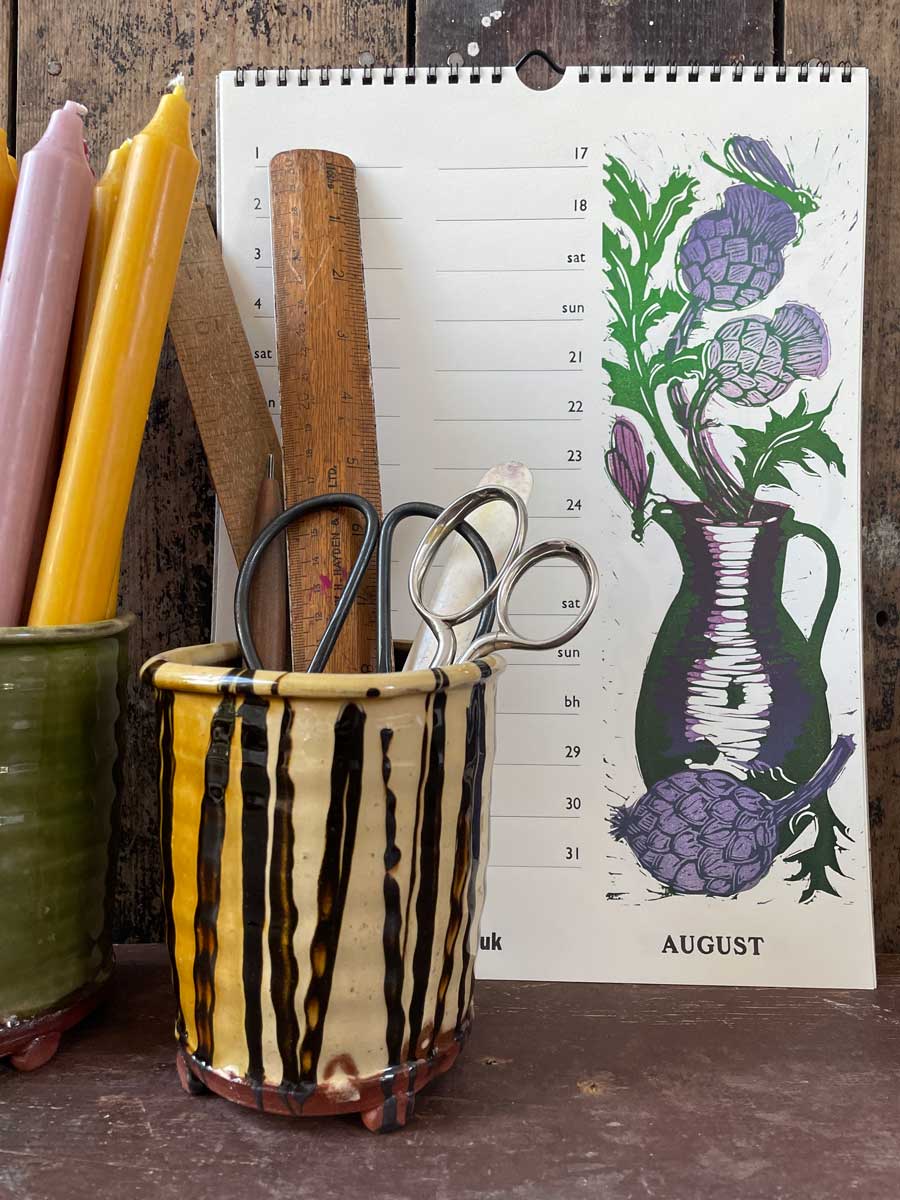 This year we have worked alongside Martin and local artist, Jen Whiskerd. Jen is a fantastic printmaker and illustrator based in Stroud, Gloucestershire. In recent years, Jen has teamed up with Martin to create a number of our Letterpress Poem Posters as well as her own work; so it seemed only right to bring her in on this year's calendar. Once Jen had cut her lino designs for each page and the type had been set, they hand-printed each page of our calendar, inking up the Heidelberg Press with inimitable colour combinations as they went along.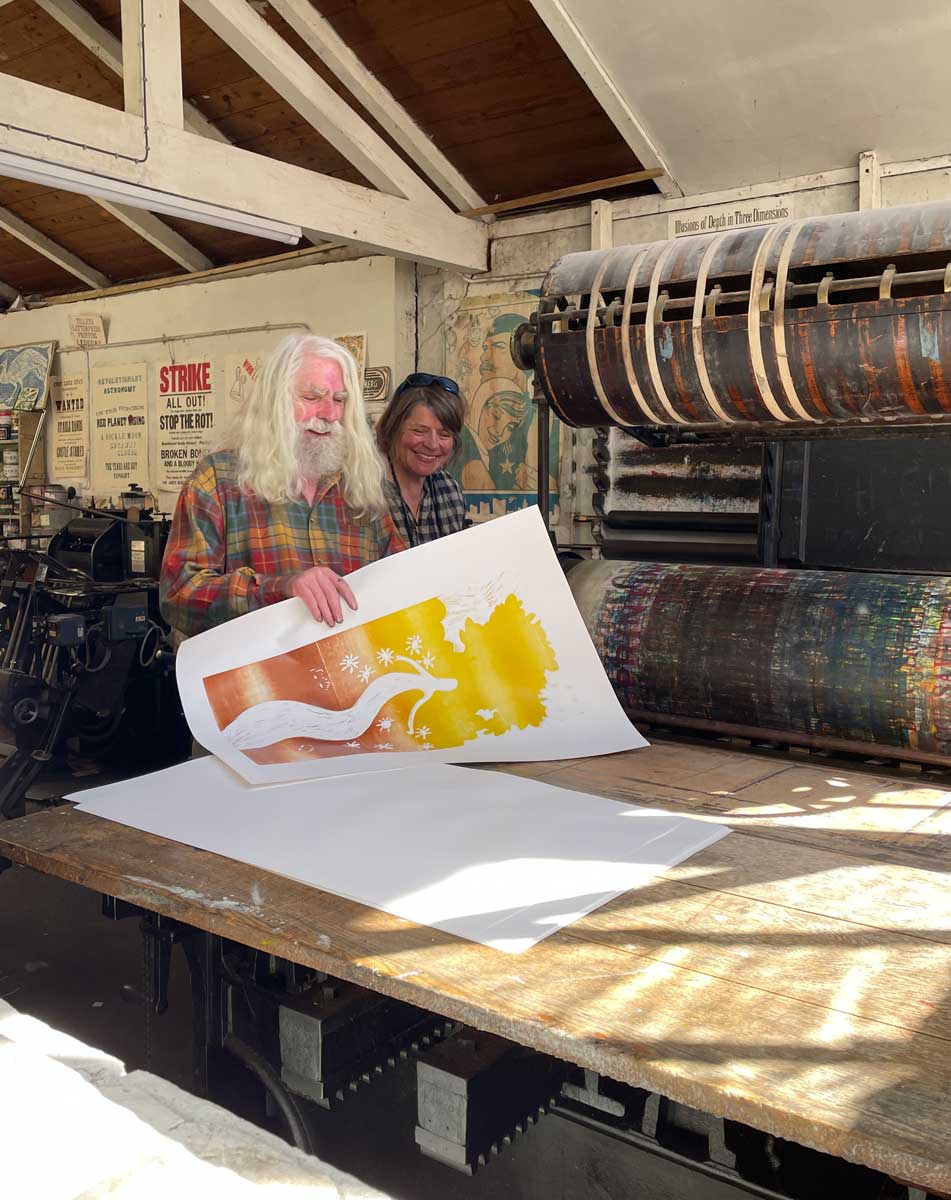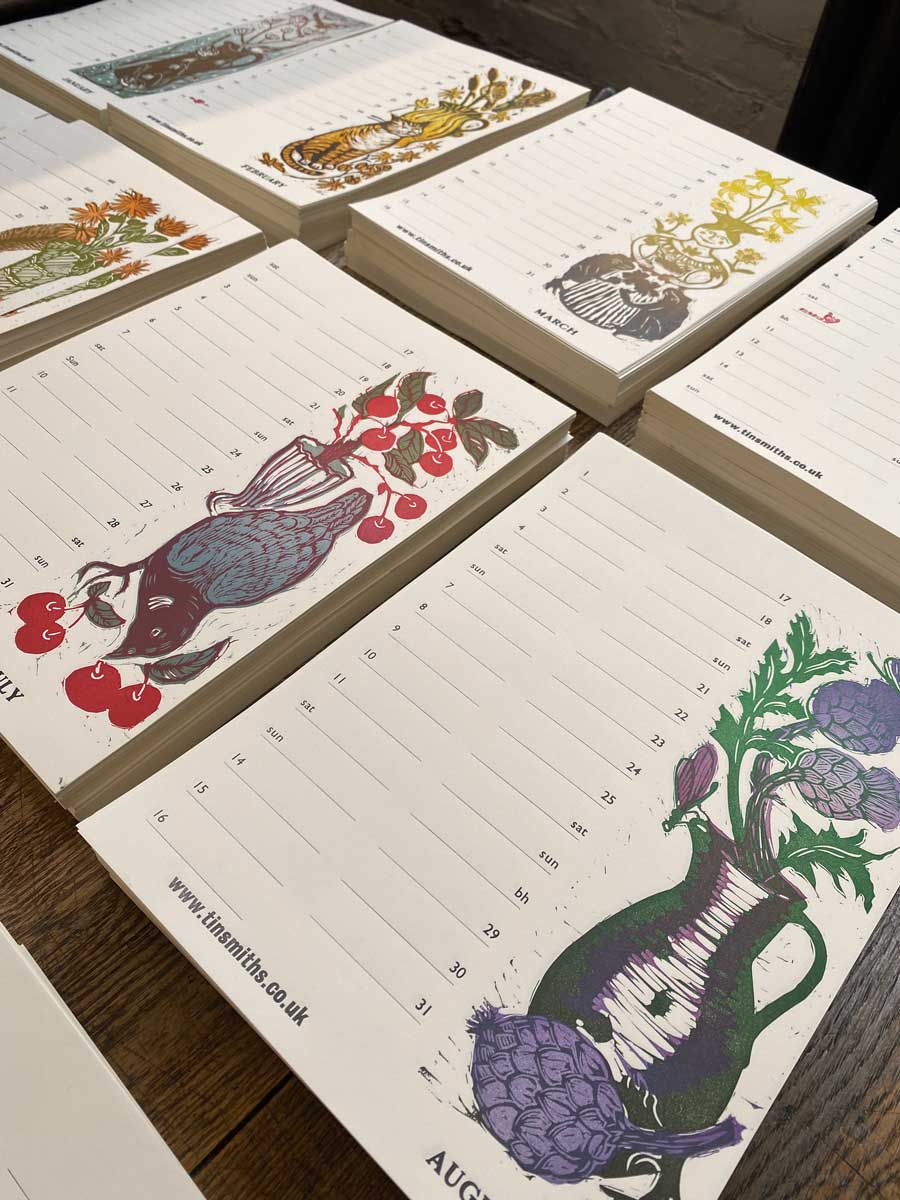 Jen has selected some of her favourite ceramic pieces from over the years and intertwined them with seasonal plants and creatures, which she has bought to life in her charming linocut prints which appear on each month. Her linos reflect her love of nature, particularly that which surrounds her on the Herefordshire / Gloucestershire borders.
We hope that this calendar brings you some joy and calm in the chaos as you fold over each month, much in the way that hand made ceramics do.
"Choose only one master. Nature." Rembrandt