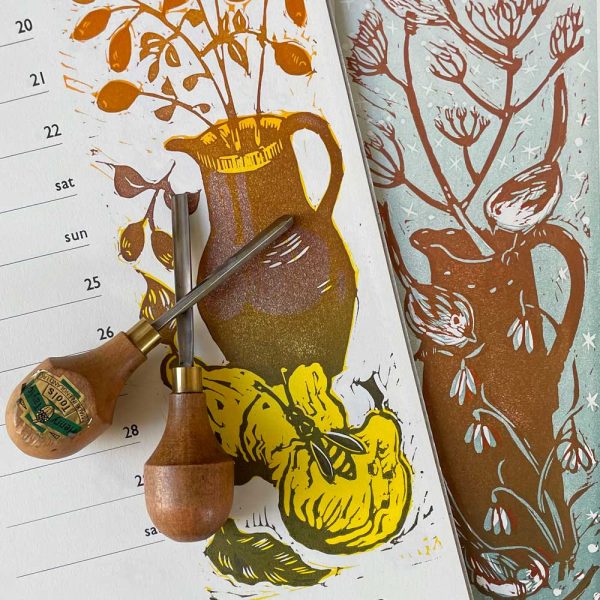 Jen Whiskerd's joy of storytelling through print shines through. Her lively and engaging illustrative work highlights her love of nature and the inspiration she gains from the landscape surrounding her rural home on the Herefordshire/Gloucestershire borders. As a follow up to our previous post about Jen Whiskerd's involvement in Tinsmiths' 2023 letterpress calendar, here is a little more about Jen's practice.
The basis of Jen's creative work is rooted in drawing and painting, examples of which can be seen on her Instagram account @jen.whiskerd. Jen translates these ideas into print, preferring to use relief printing techniques such as linocutting or carving into wooden blocks to create her final images. Inspiration comes from many sources; Romanesque stone carving, misericords, book illuminations and those strange beasts which appear in their medieval margins. Jen also takes inspiration from British 'jobbing artists' from the 1930s & 40s such as Eric Ravilious, John Nash and Edward Bawden, artists who could turn their hands to print, illustration and decorative work, whose designs were used on products or in advertising which was accessible to the broader public. Not afraid of the whimsical, Jen's designs often have a playful nature – eyes peeping from between leaves or a smiling moon. Small details which are a delight to find.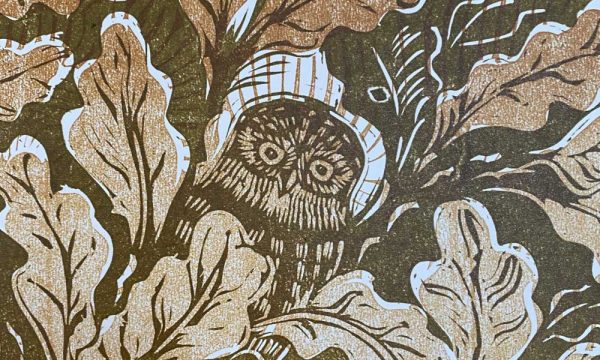 For Tinsmith's Silva exhibition Jen has created two characterful and highly detailed, letterpress prints. Both painstakingly cut by hand; one into lino, the other into a Japanese plywood block. For the Forest of Beauty print, Jen has cut, a large, highly detailed oak tree design in lino which sits as the basis of her letterpress poster. Jen's design has been paired with an original poem by local Ledbury poet, Jim Denning. The design for Jen's second print, Plant an Acorn, Make a Home, has been left undisturbed by an overprint of words which allows you to get a really good look at all of those small marks and expressions caught by the ink rollers. Both posters were typeset by hand by Jen and Martin Clark and printed on a Heidelberg letterpress at Tilley Printing in Ledbury using original type.
Both posters are available for purchase through Tinsmiths' Silva Exhibition at Ledbury Heritage Centre, or by visiting Tinsmiths' website where Jen's work can be found under the Artist Print category.
3rd – 30th September 2022
Heritage Centre, Church Lane, Ledbury
Opening times:
During h.Art; Saturday 3rd – Sunday 11th September 10am-5pm
Thereafter, Wednesday to Saturday 10am-4pm