Herefordshire based artist, Lynn Hodgson carves motifs inspired by the local flora and fauna into native species woods to create beautiful items for the home. Lynn is the next of our introductions to artists taking part in Tinsmiths' Silva Exhibition 2022.

Quite simply, Lynn carves wood because she loves the process. With an aptitude for drawing but self-proclaiming little flair for colour, line work was always going to be where Lynn's interest lay. Once she had discovered carving, one line with a V tool suddenly became two or even three depending on how the chisel was used, changing how and what Lynn drew – the tools were allowed to lead the way.
Lynn's studio is based at Wobage Farm, a thriving community of crafts people, near Ross-on-Wye. In a studio space which she shares with fellow wood-working partner, Ben Casson, where their joint efforts are known by the name, Kitchenwood.
Lynn works with wood generally sourced from within a 10-mile radius from wind-fallen trees or from customer's gardens. Therefore, using native species such as ash, cherry, pearwood, walnut and sycamore.
Lynn takes her inspiration for carving from the rurality around her home and workshop, initially drawing on to the wood and then carving motifs of landscapes, plants, animals, birds or fish onto mirror frames, bookends or treasure boxes. Lynn knows only too well that the wood has the upper hand; how it behaves under the chisel depends on the species, how it grew, the way it was cut, how it was dried.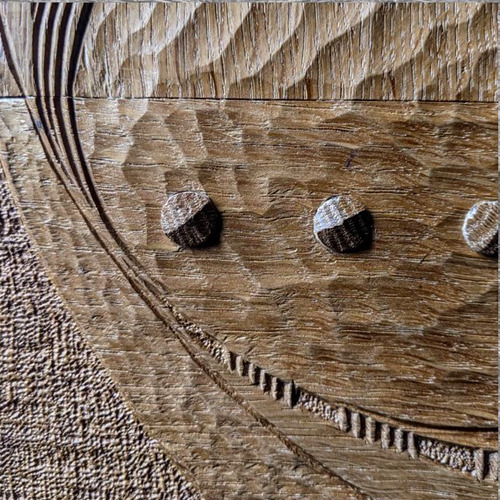 "My Top Ten are native hardwoods, each unique in grain pattern, colour and density, which together indicate how and what I carve. Oak is clean and bold, so I use it for strong V cut patterns and landscapes; sycamore is delightfully pale, its tight grain is good for fine lines. Fruit woods, especially pear, have a warmth of colour and grain that is kindness itself, making it perfect for intricate knot patterns and raised work. Lime is the darling for detail, I love its generous soft structure for birds and animals. Ash and elm have spectacular grains, the sheen of elm is beyond beautiful and streaked with colour, they both respond to V cuts with stunning zig-zag patterns. Walnut is exquisite. Richly coloured and so dense, it burnishes with the slice of steel, I choose it for treasure boxes and lettering, where a flash of gold-leaf makes it sing."
"So, it is the grain which decides where the bird nestles or the fish rises, where the cuts start and stop and which direction the chisel must go. But the chisels dictate how tight the curve and how deep the cut – the drawing is the bit in the middle. The wood and the tools make the decisions and that's why I love the process."  Lynn Hodgson 2022
For the Silva exhibition Lynn has created a stunning collection of hand-carved, wooden framed mirrors which reflect her expertise with a chisel and innate understanding of the woods she works with. Come along and take a closer look.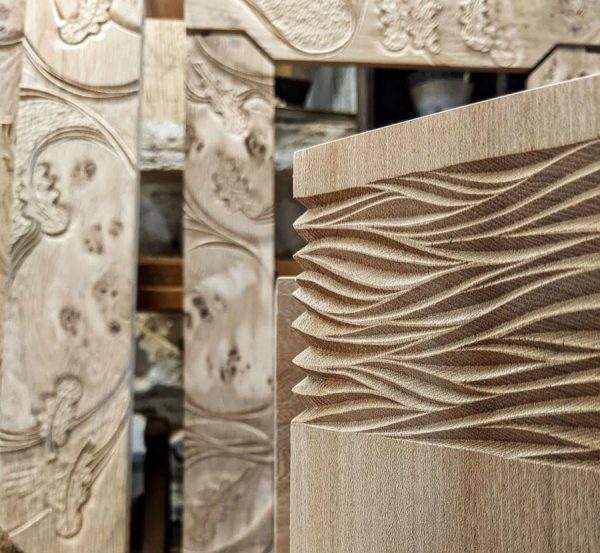 3rd – 30th September 2022
Heritage Centre, Church Lane, Ledbury
Opening times: during h.Art; Saturday 3rd – Sunday 11th September 10am-5pm
Thereafter, Wednesday to Saturday 10am-4pm
Launch Day Events Saturday 3rd September
11am-1pm Meet the Maker
10am-4pm Charity Pottery Throwdown