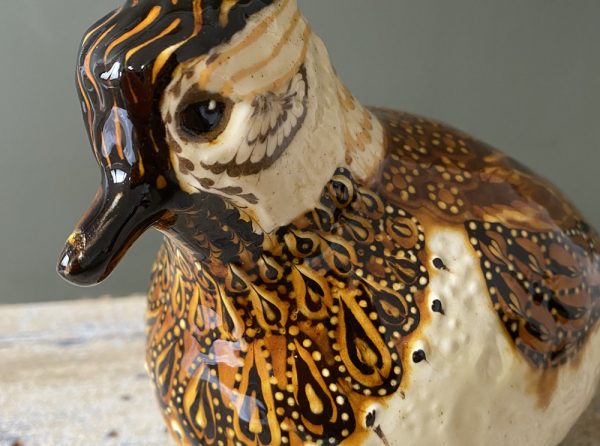 For Tinsmiths' regulars you may already recognise the name, Carole Glover. Carole's superbly decorated slipware pottery is a regular feature at Tinsmiths; her diminutive, hand-built wrens literally 'fly' out as soon as a new delivery arrives.
Carole's skill in interpreting the natural world through the medium of red earthenware, made her an obvious choice to include in Tinsmiths' forthcoming Silva exhibition. Let me tell you a little bit more about Carole's practice.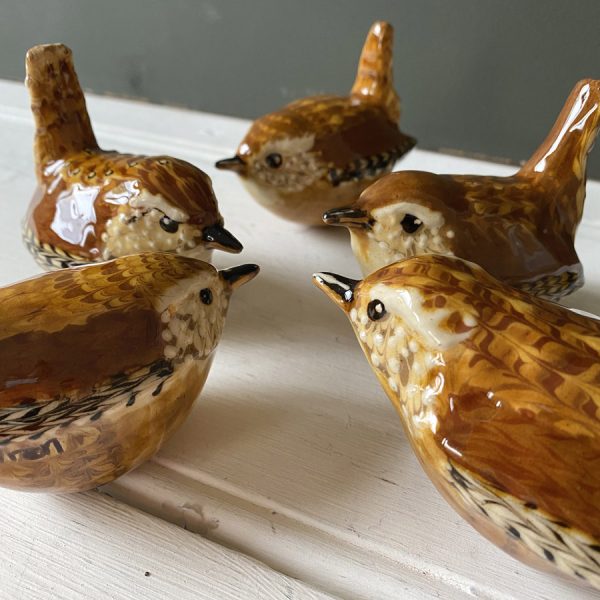 Following a HND from Derby University in 1994 and a period assisting a Devon pottery specialising in wood firing, Carole Glover set up her studio in Stafford, where she continues to practice today.
Influenced by slipware potters from the sixteenth and seventeenth century, Carole aims for a simplicity of form to enhance her ornate style of slipware decoration. Using colour and techniques for creating texture from this period, Carole makes a range of earthenware pots which provide a tactile and visual experience. Her work includes hand-built and carefully observed, native bird figures and thrown domestic vessels.
Carole's family have played an important part in her practice with husband Pete providing regular technical and 'engineering' support. And, Carole's thrown work is created on a unique, bespoke momentum wheel which was lovingly made for her by Pete and father.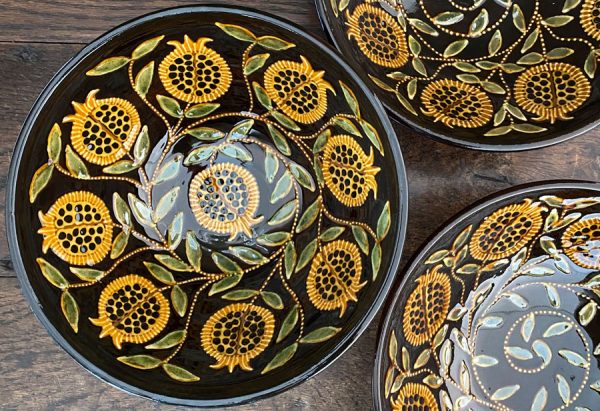 Carole achieves all of the incredible detail on her work using only four basic-coloured slips and a variety of decorative techniques; trailing, pouring, dipping, sponging, and feathering. Thereby creating a wide range of tones and hues on bisque or green-ware pots. The pieces are then allowed to dry completely before being fired in a gas or electric kiln.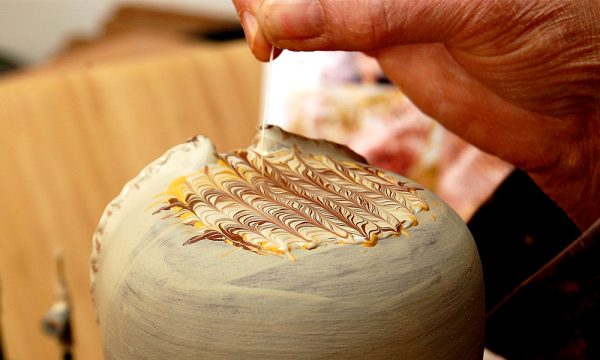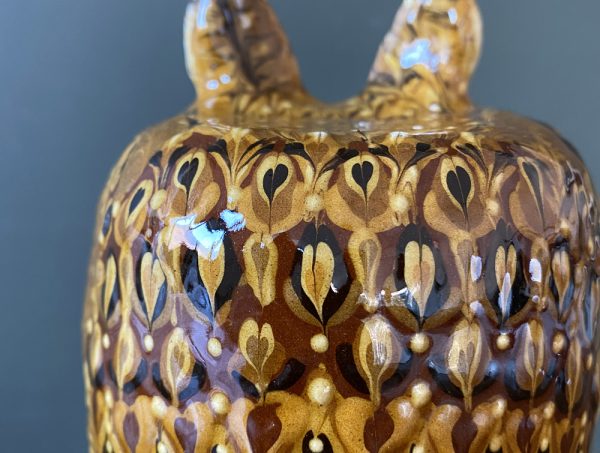 Carole Glover  "After seeing the slipware collection at the Potteries Museum 32 years ago, I knew the direction I would take with my work. Influenced by the beautifully balanced forms and deceptively 'naïve' decoration of, for example, Ozzie the Owl, I was inspired to not only throw all my own work on my bespoke momentum wheel, but to teach myself to decorate. The pleasure I get from creating my owls and observing the birds in my garden, has led me to produce highly decorated birds of all kinds."
Now, in 2022, Carole has her own work displayed in the Potteries Museum. The museum commissioned Carole to make a totem of British birds which, to her great delight, stands next to the work of C17th potter, Thomas Toft. Toft was one of the best known Staffordshire potters of the period, highly praised for their slipware skills.

There will be an opportunity to see Carole's making skills up close on Saturday 10th September 2022 (10am-4pm). Come along and be amazed as Carole demonstrates her highly skilled, sliptrail technique on one of her owl jugs. The finished owl will be auctioned for charity with all money raised going to: Herefordshire MIND, The Haemophilia Society, BEAT Eating Disorders and Ledbury Places.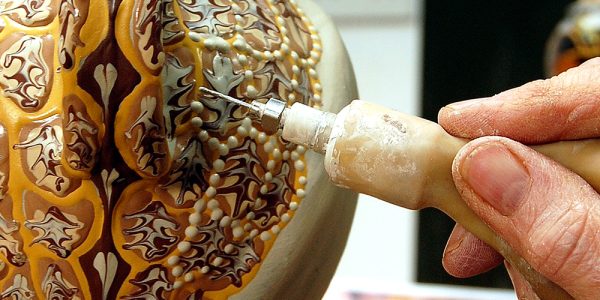 "I feel privileged to be exhibiting in the Silva exhibition because my work was seen by Tinsmiths at the Stoke on Trent Museum and Art Gallery, and the 'trees' brief has led me in yet another decorating direction. There will, of course, still be one or two birds!"  Carole Glover
3rd – 30th September 2022
Heritage Centre, Church Lane, Ledbury
Opening times: during h.Art; Saturday 3rd – Sunday 11th September 10am-5pm
Thereafter, Wednesday to Saturday 10am-4pm
Launch Day Events Saturday 3rd September
11am-1pm Meet the Maker
10am-4pm Charity Pottery Throwdown