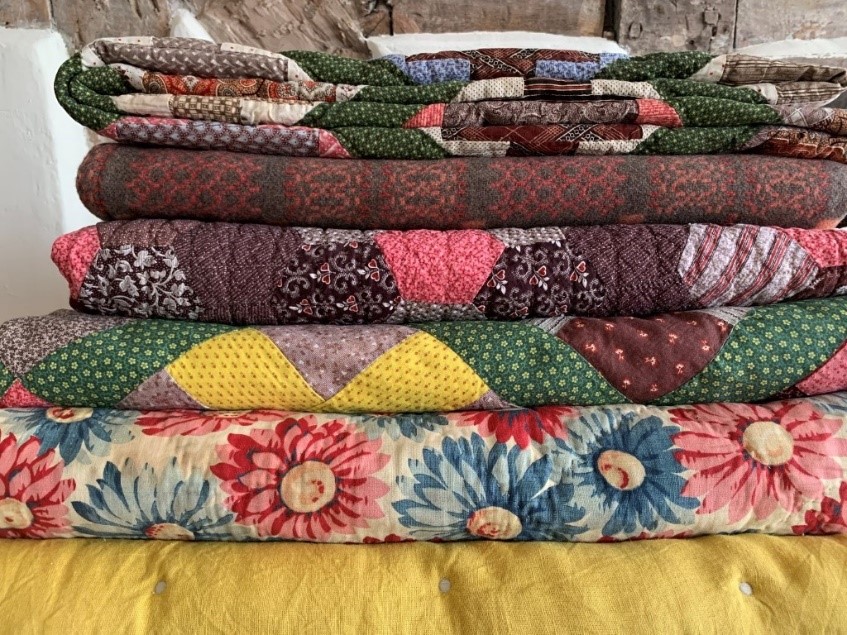 On a quiet shelf in our showroom among an abundance of fabric rolls and remnants lies a humble pile of antique patchwork quilts. These quilts all unique with their own story in every stitch and fold, combine the intricate art of patchwork with the precise skill of quilting.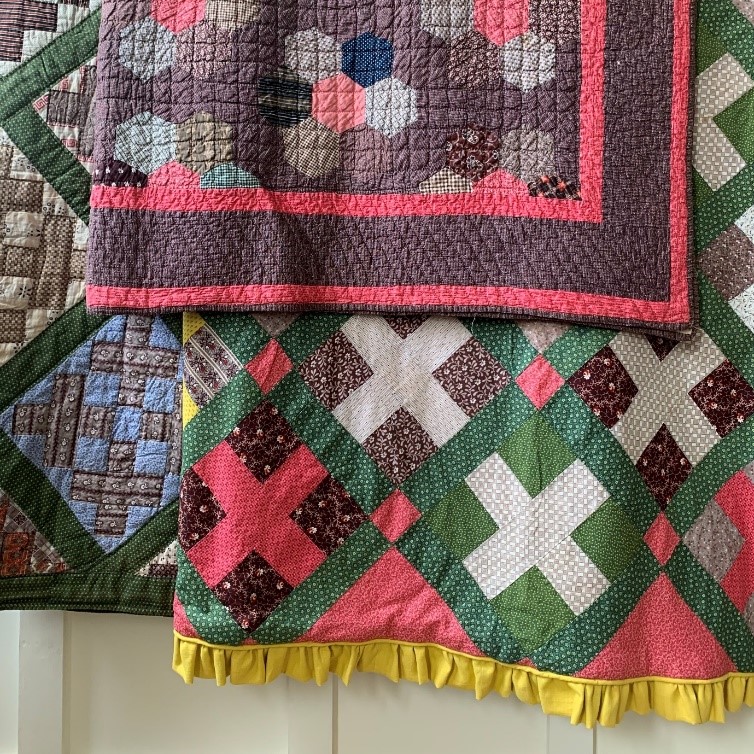 In the past, patchwork and quilting techniques were essentially ways of recycling and repurposing cloth. Limited availability or high prices drove makers to come up with new ways of creating cloth for clothes, bedding, blankets, curtains and so on. Stricter social roles also meant that women, often the makers in those times, were limited in their artistic expression and creativity. So, quilting and patchwork blossomed as art forms as they did not carry the same expectations as mainstream art. Assorted scraps and offcuts were carefully collected and delicately stitched together in geometric blocks or floral designs then sewn to a back cloth and wadding layer. Reflecting their makers culture, aesthetics, life events, stories, principles and imagination, these textiles are an advocate of beauty in imperfection and most importantly an unwillingness to waste.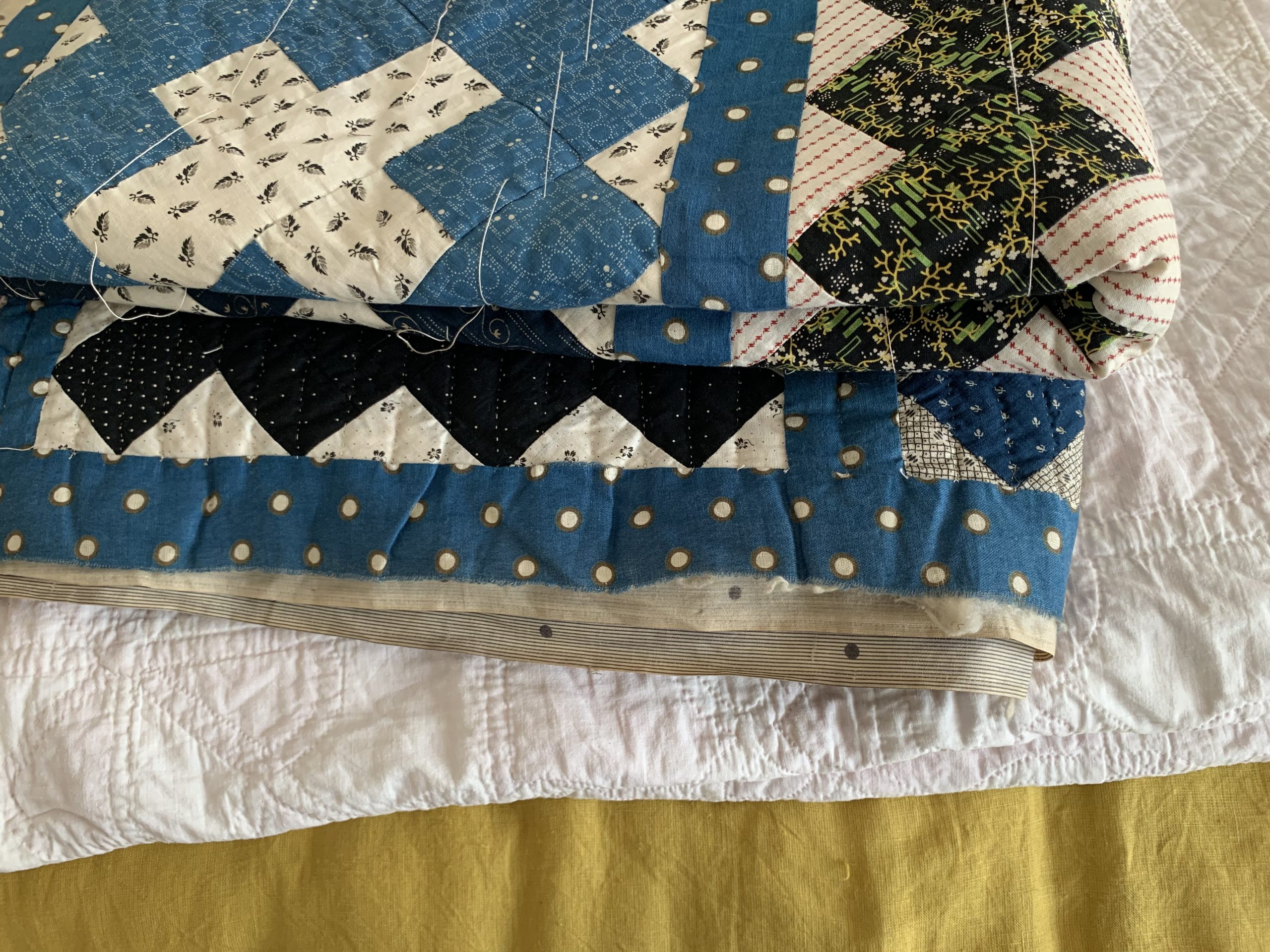 An unfinished antique quilt in our collection
Quilting is quite simply the stitching that holds the two or more layers together; some of the earliest quilted work was made up of two layers of cloth with a plump batting in between. The stitching of the three layers can become the decoration just like the elaborate all-over designs of the whole cloth quilts of Durham and the North Country.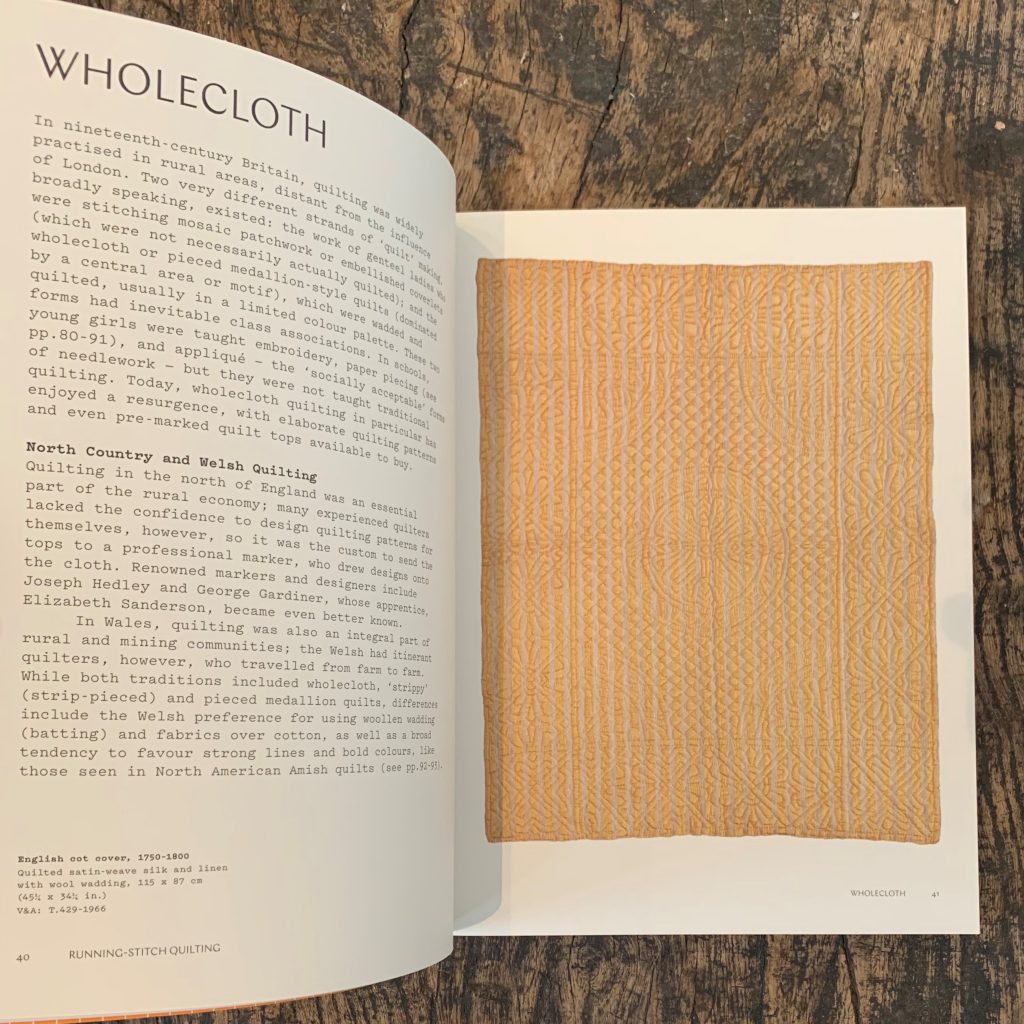 Patchwork & Quilting, A Maker's Guide from Thames & Hudson and V&A.
Before modern industrialisation, larger quilts had joins as the early looms were not so wide and so the wholecloth quilts were made up of strips of cloth to make them large enough for bed covers.  In many types of quilting, patchwork especially, the stitching is a consistent running stitch or backstitch. These methods can be seen across a range of quilting techniques from English and Welsh wholecloth and strippy quilting to the Sashiko techniques of Japan or the Kantha patterns of India.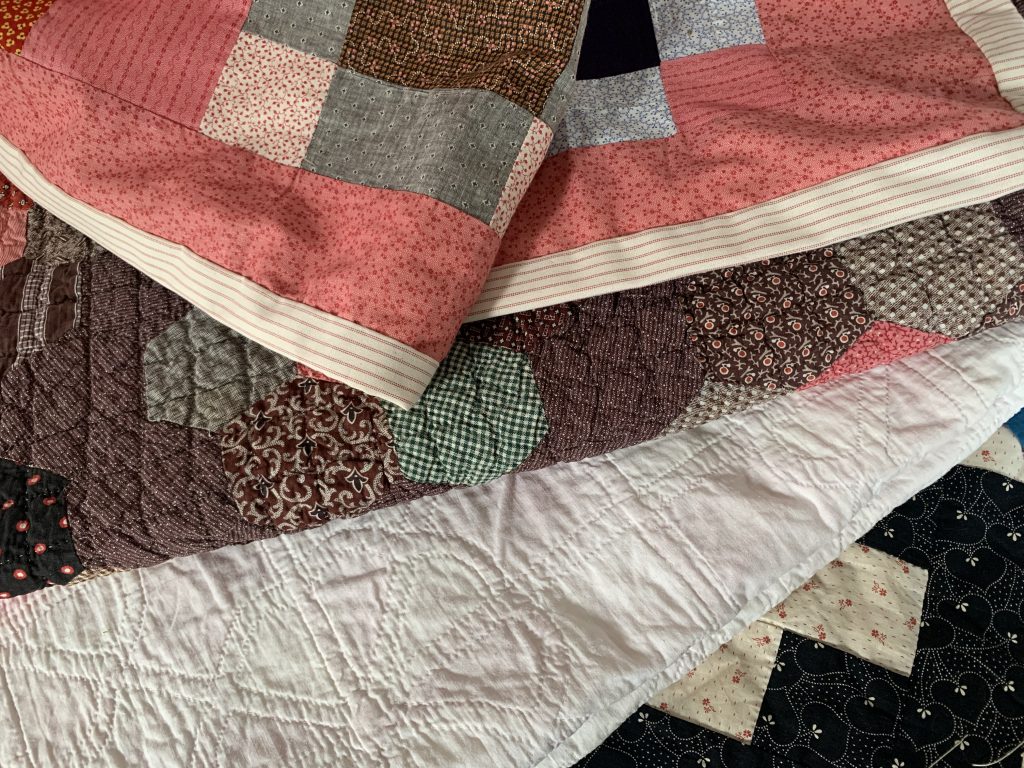 During the Great Depression Feedsack Quilts were birthed as a new style. Women used the plain cloth of sacks of grain or corn to make undergarments or blankets; these were plain but essential. The sack manufacturers soon realised they could market off this necessity and began to print coloured sacks and then all kinds of patterned sacks from florals to landscapes to pre-printed doll patterns. There was much competition to produce the most desirable sacks and women would choose the feed for the farm based on sack design. In today's connected society, feedsacks have been rediscovered in the abundance of textile waste and creative recycling has sparked designers to use the sacks in their pieces. 3 Women Co of Long Beach, California create sustainable garments using vintage rice, flour and feed sack cloths.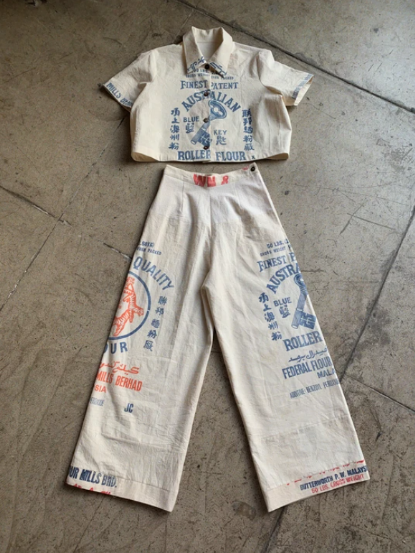 3 Women Co, two piece made from 1960s flour sacks.
On the whole, patchwork is made by sewing small pieces of fabric together creating a larger patterned cloth. 'Patchwork' and 'quilting' of course go hand in hand but really quilting has its own story. A lot of patchwork actually remains unquilted. America, Europe and Asia have historically produced geometric patchwork designs with uniform shapes and repetition. There is a shared need to save precious fabrics and the similar designs of these continents share influences through their expanding trade routes.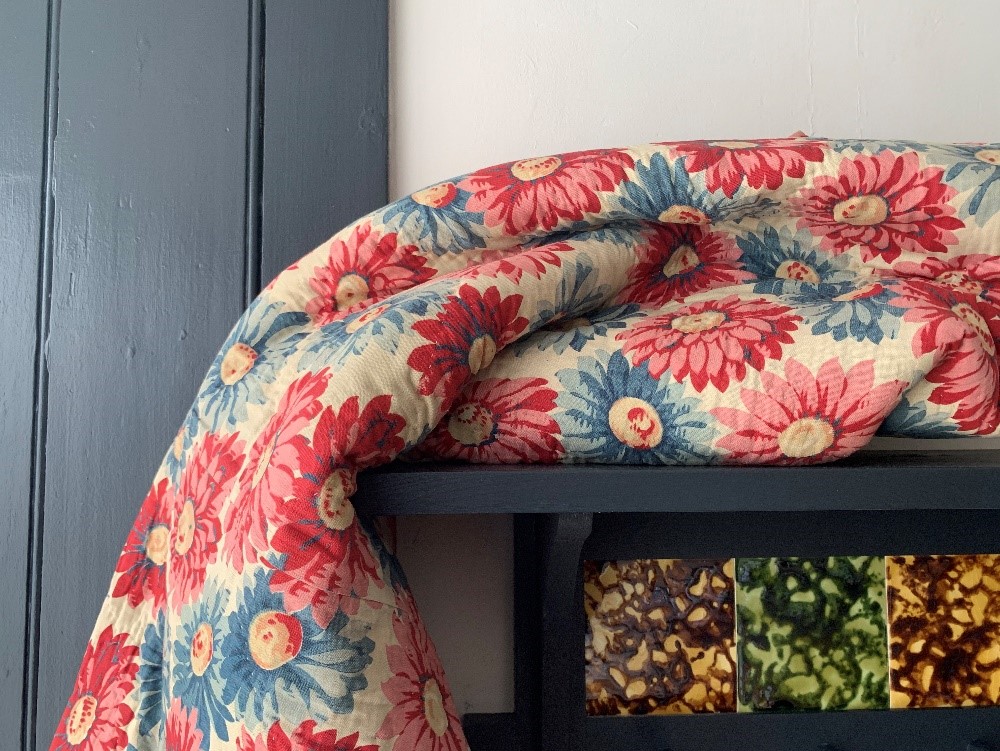 19th Century Diamond Patchwork Quilt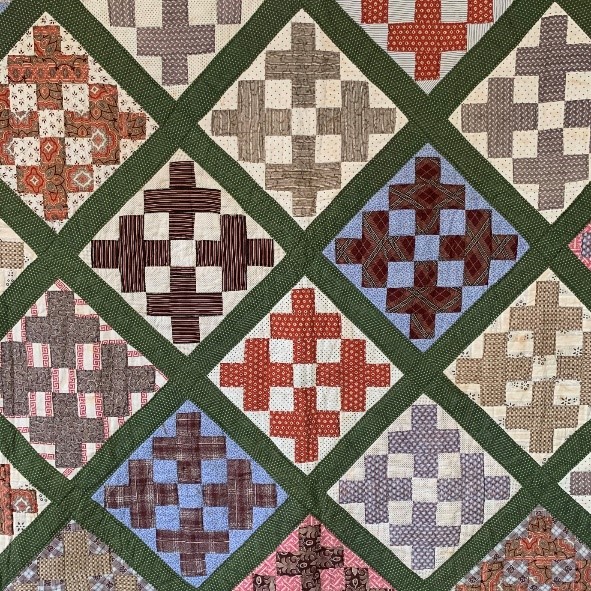 Antique patchwork quilts sit rather suitably in our range of homewares. Bringing such rich history and intrigue the quilts are an absolute labour of love, something rather valued at Tinsmiths.