Bangers that go off in the sky early in November are best accompanied by bangers that warm the onlooker. Guy Fawkes night and a hot dog, just like a horse and carriage.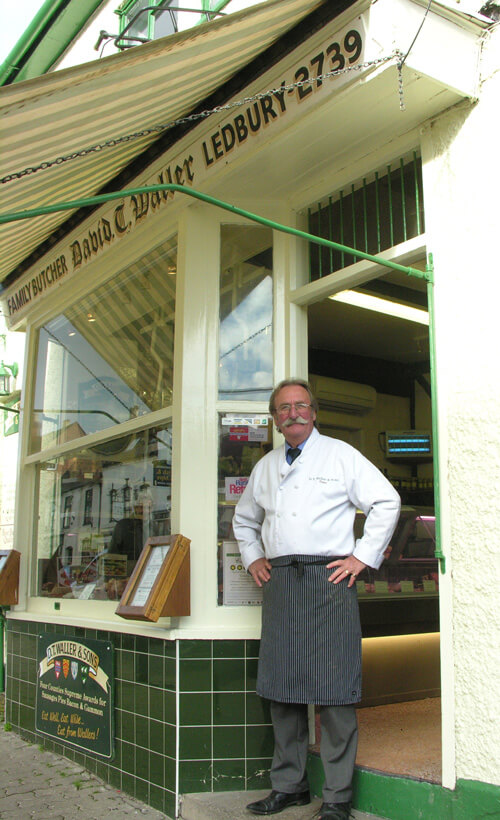 Dave Waller is one of the counties most recogniseable butchers and I visited him on the 36th anniversary of his business in the Homend, Ledbury to ask him why and how he became a butcher and what he liked the most about his work. "I like the people – I'm not the best butcher in the world", he said showing me evidence of a variety of mishaps, now well healed. "In my class at school the choice was limited – something practical for the "unteachables", he said with a wry smile, " there was the "special" curriculum for us". In fact, Dave's teacher, provided practical, confidence-building experiences and became a life-long friend. Testament to his influence is the fact that many of Dave's classmates have become influential employers of scores of people.
"It wasn't an easy choice", he explains. "A six day week, starting at 6am each day: all my mates were rock and rolling; I, on the other hand, needed matchsticks to keep my eyes open by Saturday night".  He was an errand boy at 12yrs old, then an apprentice and simply progressed slowly to build a honest shop, "It is important to me that the business is sound – for the boys – and so that I can sleep at night. I've made it my business to provide good meat. Quality, choice and value is our philosophy."
I love to witness, on Christmas Eve morning and high days and holidays, the queue at Waller's door. Steaming trays of mulled wine at Christmas offered to those who may wait 40 minutes or more, a truly seasonal sight.
"The queue is a community in itself – everyone is talking.  I am very proud of my customers, people from all walks of life meet and begin to get to know one another." There is always banter, always jokes and bonhomie every time I have stopped in at the shop. All Dave's staff have an ease about them "You can't buy it, its a gift." Dave explains.
It isn't really a surprise to find that Dave was suggested by Ledbury residents as one of the most prominent figures of the High Street and as such, a good subject for Phillip Wells, Poet in Residence for the Poetry Festival this year, to think and write about. Here is the poem which is one a series written in response to local figures.
Wallers the Butcher
Across the road, the taste and spice of community
Butcher's flavours of astonishing variety!
Munsley Mystery. Leadon Leek. The Tarrington Tom.
Bosbury Banger. Eastnor Royale – butchers love a song.
"The Hairy Bikers came here: you know how they felt?
As soon as they see the beef – they melt."
Pistachio and garlic; asparagus and pork In the Queen's hamper;
tongues are for taste, not talk. David T. Waller: cue cigar and G 'n' T,
Dreams in the mountains in view of the sea
Of apple sage and onion bangers, forty foot long –
Let's keep our English High Streets friendly and strong.
Lifelong friends begin in the warmth of these queues:
It's a gathering-together-thing this world could use.
Anyway, back to Bangers. Waller's Winners have a huge number of awards to their names. Thirty varieties? Is this possibly one or two too many? When I asked Dave to suggest the best, he didn't hesitate to reach for a handful of straightforward pork sausages which will hit the pan tonight, but there may definitely be a day for a Pork LSD – Ledbury's Stick of Dynamite on a cold night rapidly approaching.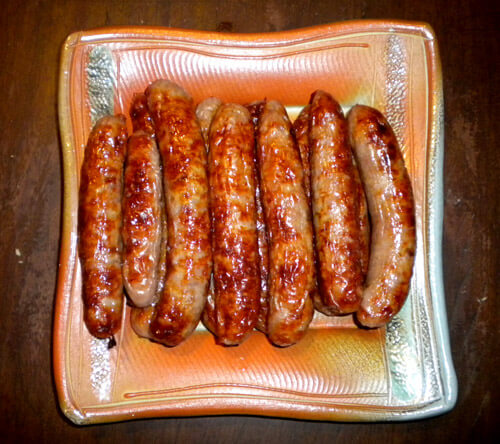 Waller's have been known to serve the great, the good and celebrated. However, Dave is certain that "the most important person to me – every year, all year round – is "Mrs Jones and her half pound of mince". David Waller, 1st November 2013