Burwarton Show, held annually for the last 110 years, is on the first Thursday of August. Tremendously well supported, this one day agricultural show has all that you'd expect from a three or four day event. Tinsmiths, as sponsors of the Champion Heavy Horse, presented rosettes to the Champion (Mare and foul at lead) and Reserve Champion (a yearling shire) and they were truly beauties amongst a strong entry in all heavy horse classes. Of course, despite heavy rain, we took dozens of photos – here are some.
Champion Heavy Pair – so well turned out and untroubled by the crowds or commotion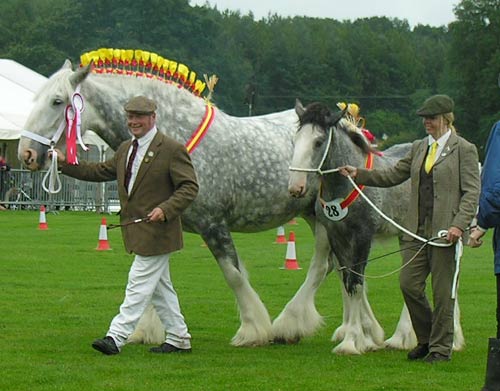 Phoebe Clive presents the rosette….
The Reserve Champion, only a year old, required rather skilled and strong handling….
Detailed comments were returned by judges, nice to see some raw materials, must dust off knitting needles…..
Just one example of the cattle lines – Highlands looking very pre-historic……
Parading in the ring for a grand finale, the Heavy Horses turned out in all their finery……
However, this "bottom" was the show-stopper, something to rival even the most sophisticated "brazilian"
A really good day out for all – lots of lovely produce and a beautiful rural Shropshire setting at Cleobury North.