Partial to a potato cake? Can't pass a crisp chip? Sausages undressed without gravy and mash? The worthy potato covers so many bases and grows very well in the rich, red Herefordshire soils. But last week I learned it has a higher calling. Deep in the verdant lanes of rural Herefordshire, fairly close to Hereford itself, potatoes are used to make Vodka that has been awarded the title "The Best Vodka in the World" in the prestigious San Francisco Spirits Competition.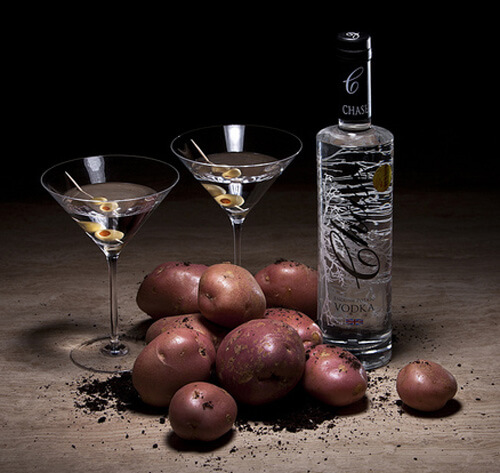 I spent a couple of hours last week with Alex Davies and Jamie Baggot, Distillers at Chase Distillery. Chase, the growers who established Tyrell's crisps, use potatoes from their surrounding farm to ferment and distil "single estate" vodka. The distillery, although small in terms of "supermarket" brands, is thriving and has expanded impressively since from the first drop was bottled in 2008.
Alex and Jamie come from quite different directions, Alex being a chemist specialising in fermentation science and distilling while Jamie's background is in retail management and business development. Both understand the processes and the need for extreme vigilance in terms of what goes into the Still and in controlling the environment for the yeast to grow and to produce alcohol. On the warm day that I visited, they were adjusting their cooling systems since the water extracted (and recycled) from the lake on the farm was too warm for their usual regime. That must be their definition of a UK heatwave.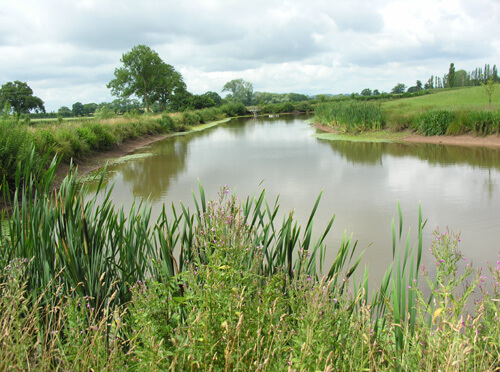 In the potato shed the spuds get a deluxe treatment that is unusual, perhaps unique, in vodka production. Chase spuds are "peeled" before fermentation. Whether baker or brewer, anyone using a strain of yeast wants that yeast. Pure and unadulterated. Peeling lessens the chance of wild yeast getting into the system and changing the outcome. From peeling, we progressed to the sweet-smelling "cooking" of the finely mashed pulp resulting in the breaking down of starch to sugars to make them available for yeast activity and therefore fermentation.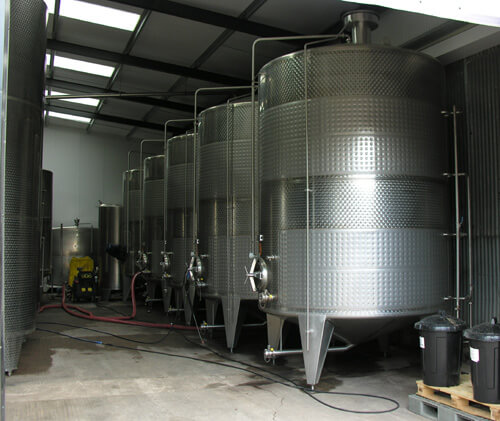 At each stage, I was encouraged to taste from the vats – mostly pretty palatable on the basis of a drop or two on the finger. Between fermentation and distilling we paused to visit the "botanicals". These are the ingredients that flavour a spirit – so in the case of gin, juniper for example. Chase Distillery is housed in an old hop barn – where the hops were dried before shipment. A small, very well-ventilated room is lined with sacks of coriander seeds, ground liquorice, sweet citrus peels, bitter Seville orange peels, angelica seeds and ground roots, cinnamon, nutmeg, ginger, almond, cardamom, cloves. This was one of the most memorable areas for me.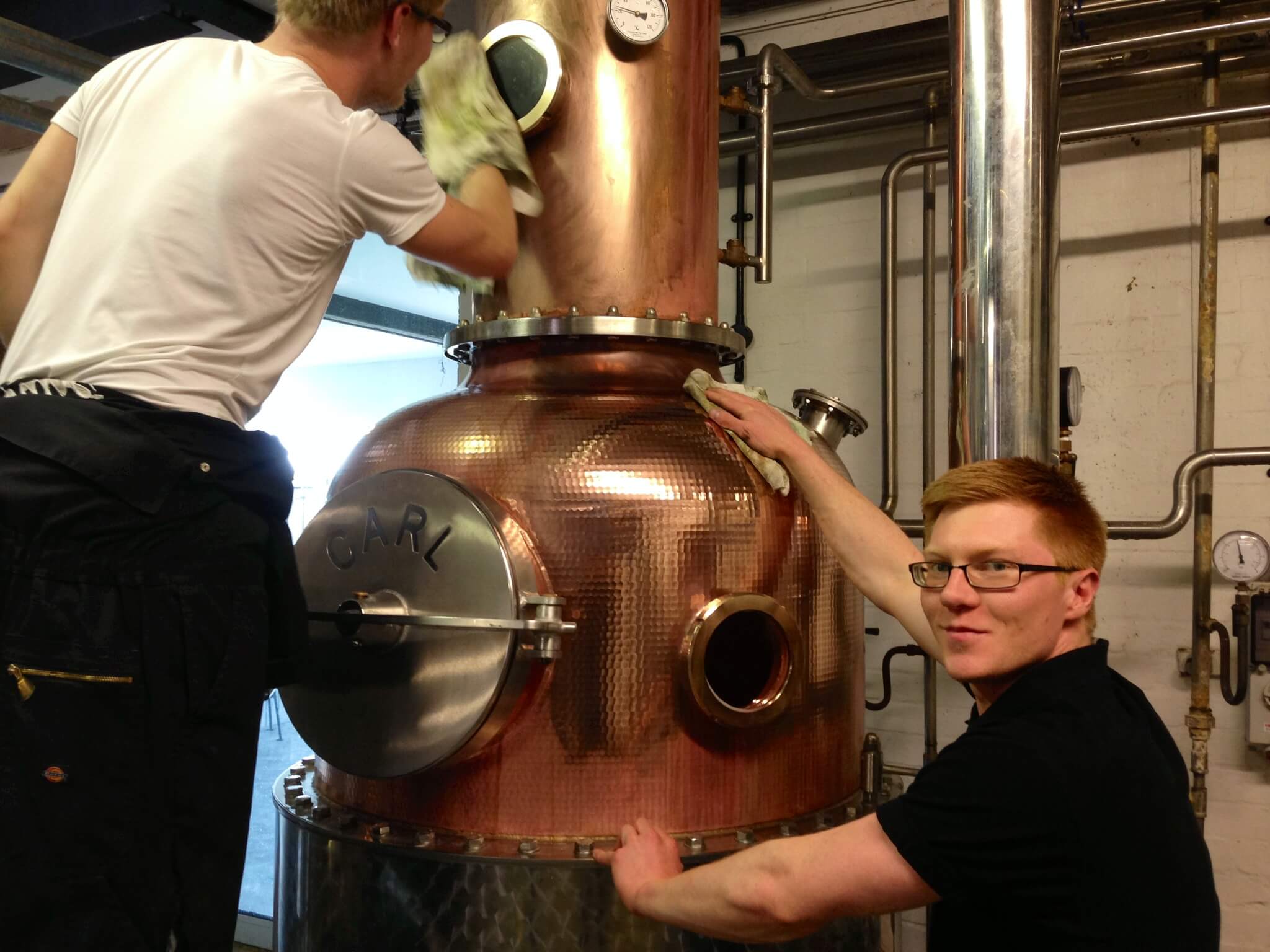 The potato wine is distilled to form a low wine at around 85% abv and this low wine is then distilled up to four times in a wonderfully "Willy-Wonker-looking" copper batch pot followed by the final distillation in the rectifying column (a giant free-standing copper column that soars through the roof) . Botanicals are added to the process in the gin still where this, already distilled, spirit is set to re-distil through the botanicals in our carter-head into a gin distillate.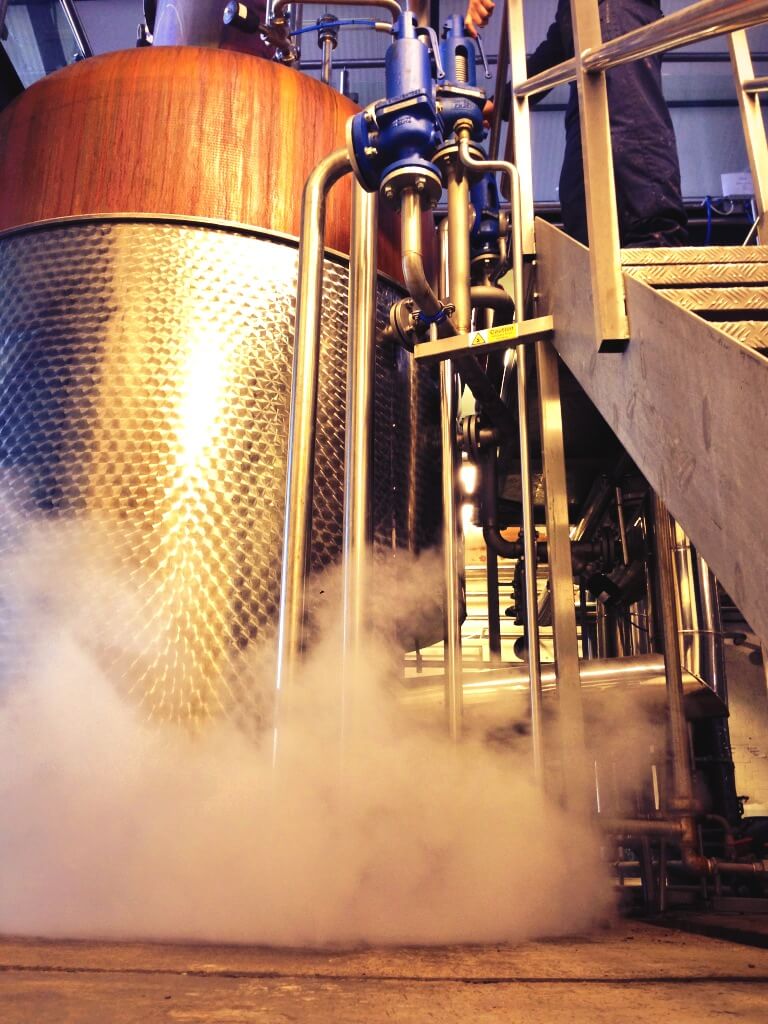 The spirit at this point reaches a dizzying 96% ABV(alcohol by volume). Nearing bottling, the spirit is tempered down to around 40% ABV with water drawn from a source on the farm. Hand-bottled (beautifully), labelled and ready for sending all around the world – Europe, US and Canada, South America and the United Arab Emirates to name a few. From field to bottle the process takes about two weeks of undivided attention from the two distillers and nine members of staff.
Now, for the moment of truth. Chase have an on-site cocktail bar with the most bucolic of agricultural of views. This is tasting time. I have focused on Chase Vodka, but should mention that they distil "Naked Vodka" from apples grown in the orchard next to the Still
and have recently added two gins, Williams and William GB Gin, to their range. I was surprised to learn that gin is made from vodka. So, with their systems for vodka so well established, it makes sense for Chase to add gin to their stable of spirits.
I compared the bases apple v potato and was quite amazed that a novice could detect such a distinct difference, with the apple vodka being sweeter and very much more volatile or hot in my mouth: I tasted literally a sip of their marmalade vodka, rhubarb vodka and elderflower liquer – driving restricted me rather, but leaves me scope for further Chase tastings. For my drinks cabinet,  I think I would go with the Naked Vodka but, combining "Potatoes" with April's Calendar topic of "Rhubarb",  I took away Rhubarb Vodka – a delicate pink, fabulous rhubarb infusion with a subtle vanilla flavour – as well as Alex' suggestion for a cocktail using the spirit.
Alex' Rhubarb Vodka Tonic
To a glass, add:
A healthy measure of rhubarb vodka
A few thin slices of root ginger
Swirl until you can smell the ginger through the rhubarb.
Add ice and top with tonic.
Spray lemon zest over the top and add for garnish.
Chase offer tours to groups for you to see for yourself or buy on-line for a home tasting.
Potatoes from Herefordshire, enjoyable in so many ways.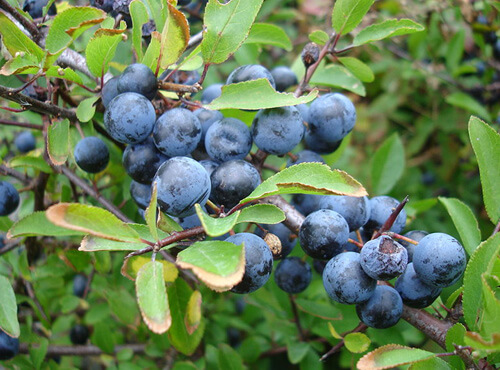 P.S. If you have a good source of sloes and live in Herefordshire, Chase will exchange ripe sloes for use in their sloe gin (which they make as a limited edition) for finished spirits – so it may well be worth contacting them if you think you may have a basket or two to offer…….