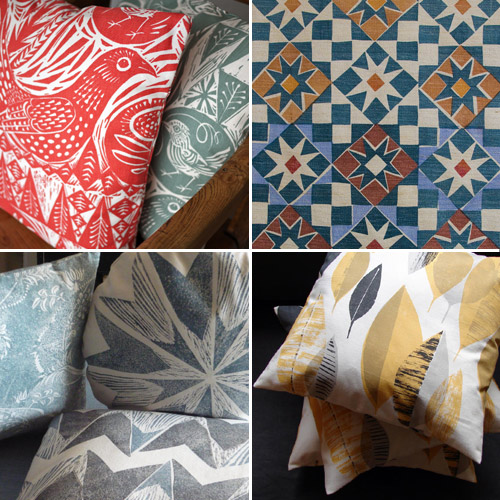 Time is racing towards our next exhibition at Tinsmiths. We've always shown limited edition prints in the showroom and now we move into another area, closely aligned to our core acivity as a specialist fabric retailer.
Fabric lengths, cushions and curtains fill Tinsmiths' Showroom from 10th September to 15th October 2011, illustrating the techniques & production processes of 8 leading UK textile designers. From wonderfully simple block-printing to technically advanced digital printing, contextual information and two printing workshops help satisfy the curious.
Designers exhibiting are Bill Quay Fabric Workshops, Cressida Bell, Michael Birch, Emily Burningham, Katy Chard, Rapture and Wright, Jenny Stringer and St. Jude's. We may be lucky enough to unveil a new textile design from Angie Lewin at the show. So, to hear more do join us on Facebook and keep an eye on the Blog.