Ticking fabric was traditionally a very densely woven cotton herringbone or twill weave cloth used for making mattress & pillow cases. The derivation of the word 'Ticking', material used to cover pillows and mattresses, is from the Greek theke, "receptacle". Ticking cloth was traditionally woven with even narrow stripes in the warp, usually in navy or black & cream, however many variations of stripe pattern & colour have evolved.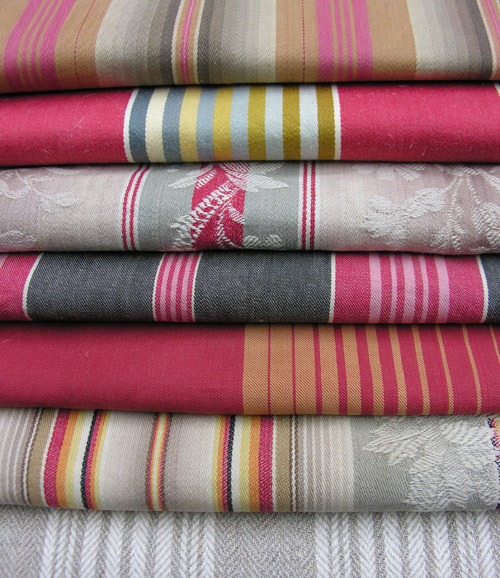 Our collection of vintage tickings gleaned from bric a brac sales, flea markets etc.
Modern ticking fabric is generally not feather proof as it is woven and finished for qualities of drape and wear for curtains or upholstery. Traditional ticking fabric was also made feather proof by waxing or soaping on the back. Tickings have been a mainstay of the Tinsmiths' fabric collection since we opened in 2004, and we now stock an excellent range of excellent quality ticking from mills in the UK & EU. We only stock traditional woven ticking cloth with a herringbone or twill weave, & over the years have used it for many successful projects as curtains, blinds & upholstery. For curtain use our tickings have an excellent drape & for upholstery use we have found our ticking to be extremely durable with some of the cotton ticking that we stock achieving a rub test of 35,000 cycles.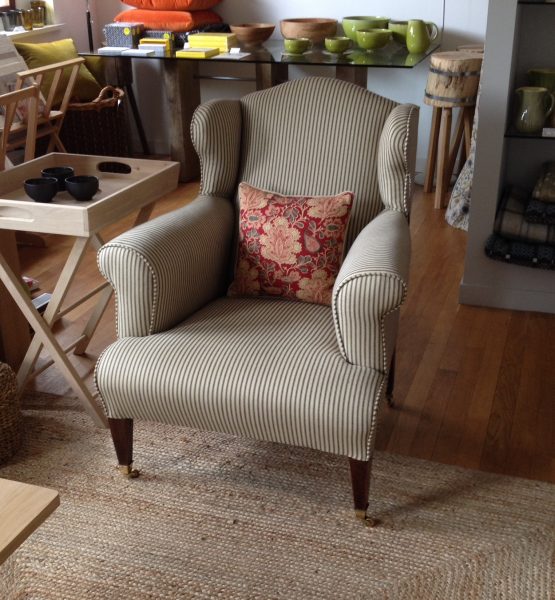 Old Armchair re-upholstered in Anthracite, note how well ticking works as piping to give a lovely finished edge.
Ticking fabric is an excellent choice for those wanting a scheme that will not date; neither cutting edge contemporary or fussy or twee, ticking is a straightforward classic cloth which will look good for decades.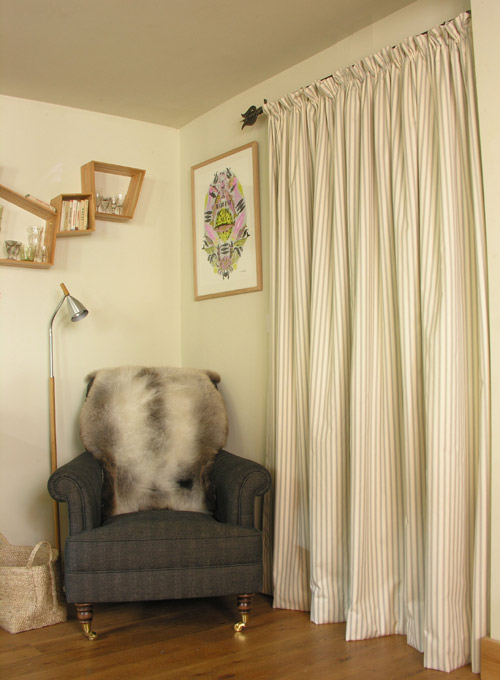 Cotton Ticking Curtain in Dove Grey with slightly wider stripes than tradition ticking. 
Tickings from a huge range on the shelves at Tinsmiths: