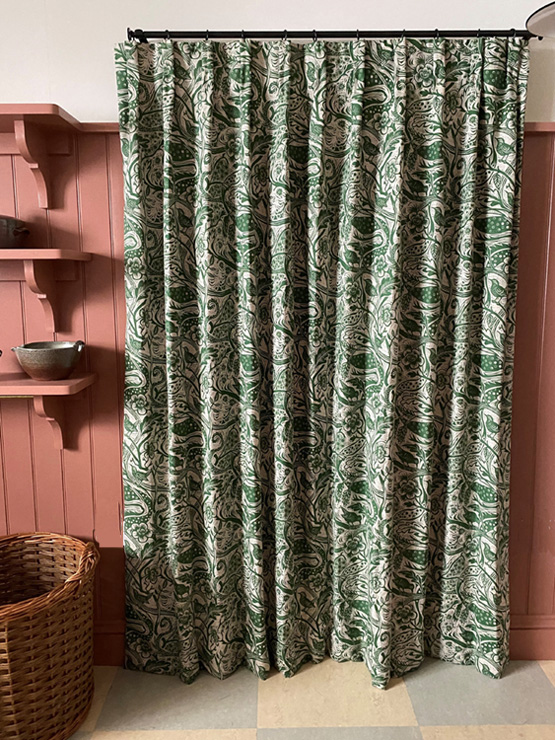 A well-considered door curtain is worth it's weight in gold. It will:
Keep the heat in
Keep the draughts out
Save Energy
Reduce noise and light
Thermal Gain
A well made pair of curtains which includes an interlining can offer considerable thermal gain. According to research carried out by University of Salford* in 2017, windows and glazed areas of the home (which included properties with double glazed units and modern construction methods) were responsible for a fifth of heat loss from the dwelling. Conclusions from the research agreed that a well-fitting, multi-layered, thermal covering on these areas made a considerable improvement to heat transference.
An interlined curtain on a glazed window or door can work as effectively in Summer as well as in Winter, by creating a dead-air space between window and room which reduces air infiltration and heat transfer. In Winter this means that heat is kept in the room and, during warmer Summer months, the sun's heat is reflected back outside helping your home to keep cool
Project Considerations
Through Tinsmiths' Made-to-Measure service we can make a bespoke door curtain to your specifications or, if you'd prefer to tackle the project yourself, we can provide all the necessary materials from fabric choice, curtain poles and haberdashery to complete the task.
Tinsmiths has made choosing the right pole for your space straight forward, our collection of curtain poles offer simple, good quality. Tinsmiths curtain poles come as a complete set which includes brackets, finials, rings and the screws required for fitting and these sets are always available for timely delivery. Working out how to best fit a door curtain is not always easy as you have limited space surrounding it. In these circumstances, we offer recess brackets as a useful solution. Where space is very tight then a 'Portiere Rod', which hinges open and closed with the door, can provide a sensible solution.

Linings and interlinings are an important consideration in the overall efficiency, drape and thermal of a curtain. Visit the Tinsmiths Fabric Showroom to talk through your project ideas with our fabric and Made-to-Measure specialist, Nicki. We have samples of all our fabrics available for you to take home as well as examples of our stock linings and interlinings. For those further afield we are able to provide excellent advice on the possible solutions for tricky spaces via email [email protected] (pictures included are helpful!).Your choice of lining can also be a further decorative opportunity if your door curtain is going to be seen from both sides, you could perhaps consider a striped or patterned cloth for extra impact. In the example shown here, Tinsmiths' Scullery Room door curtain has been made from Mark Hearld's Forest Green Wren fabric and lined with our green Osterley cotton to great effect.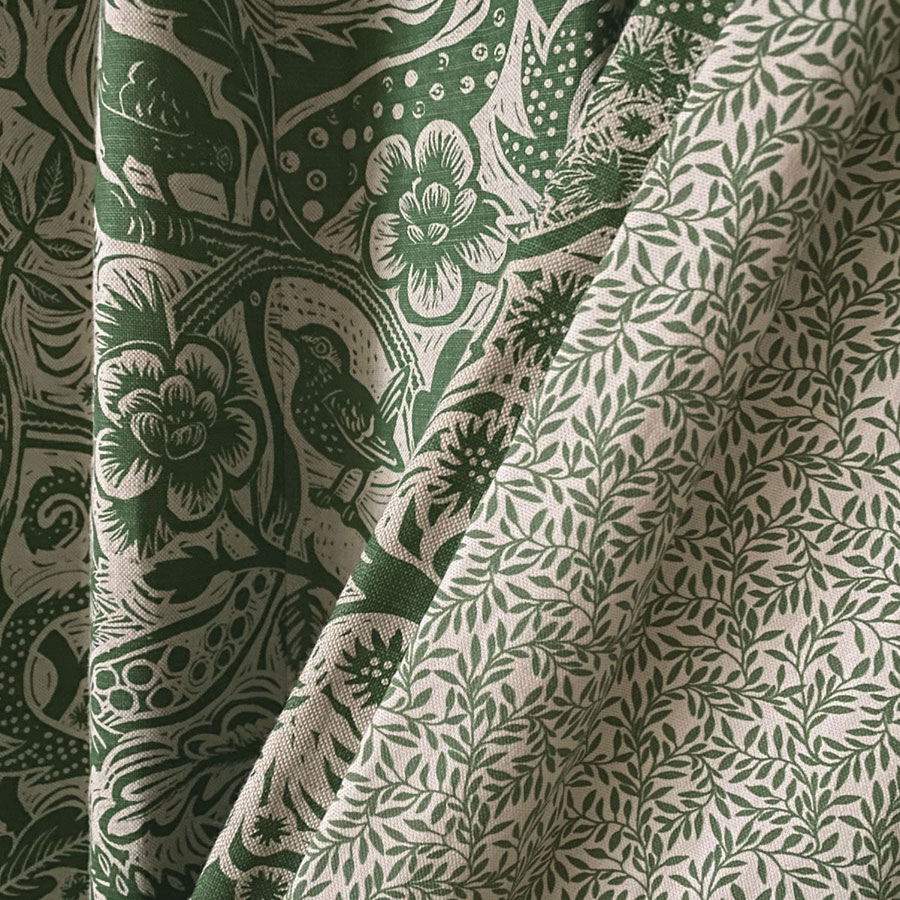 Practicality aside, a door curtain in a beautiful fabric can add just the panache required to turn a plain doorway into a welcoming and stylish entrance to your home. And we can definitely help you to choose the perfect cloth!
*2017 University of Salford, "The thermal performance of window coverings in a whole house test facility with single-glazed sash windows" Fitton, R, Swan, W, Hughes, T and Benjaber, MAA