Each morning as I unfurl into the day I ritually reach for a handthrown mug made by Devon-based potter, Russell Kingston, to hold my first cup of tea. Those first few sips always make me pause, my fingers tracing the wheel thrown grooves and slip-trailed ridges, their familiarity from years of use bring warm comfort and encourage me to savour the moment before the rest of the day rushes in.
For me, tea not only tastes better in this mug but its clever design works perfectly with my daily routine. Russell has made the mug broad at the base and smaller at the rim which means the tea cools slowly allowing me to continue with my morning preparations knowing that my drink will still be warm when I return to it.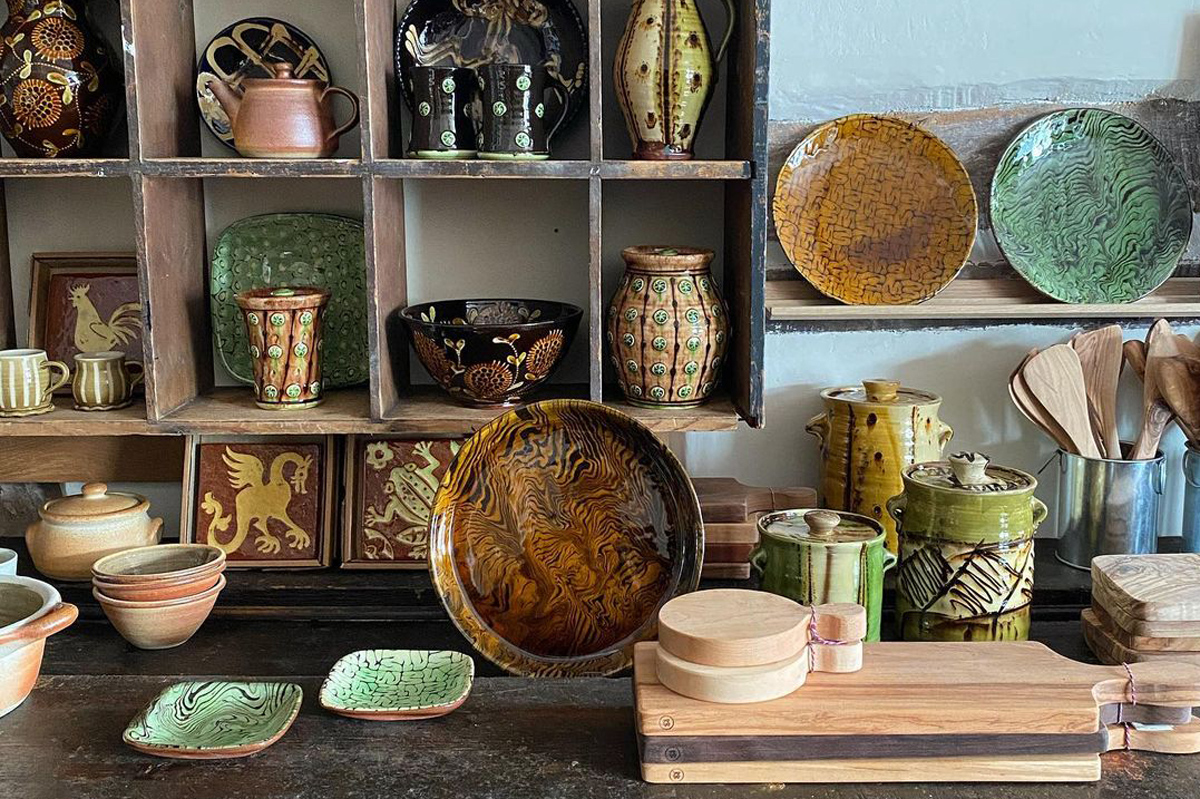 So why am I telling you this? Be it a humble piece of hot, buttered toast or an Ottolenghi masterpiece, many would agree that the experience of eating and drinking is made all the better when using a handmade piece of pottery to cook or present it. It raises these everyday activities into something special, to take time over. To relish.
It is no secret that Tinsmiths' passion is for well-designed, functional objects with longevity; both practical and beautifully made which you will want to cherish and use for years to come. This philosophy extends to Tinsmiths' handpicked collection of tableware made by a selection of the best contemporary potters in practice today. Using a combination of traditional making techniques and their own tried and tested formulas, all of the potters behind the tableware collections design and make with functionality in mind. These are pieces which they use in their own homes. Pieces which transition from the kitchen to the dining table with aplomb.

Herefordshire potter, Patia Davis has a distinctive approach to glazing using high-fired ash and feldspathic glazes. For making her flatware dishes and plates, Patia alters her clay recipe, adding a fine sand and grog combination to the mix. This acts as an 'opener' within the clay body allowing for good thermal expansion in the finished pots which makes them ideal cookware. Robust enough for baking a pie in but also so handsome for presenting direct to the dining table.

As a keen cook, Russell Kingston's ethos is that his pots are suitable to be used and enjoyed in everyday life, celebrating the food which is served upon them. With this aim the forms he creates are simple and robust made using a combination of wheel and slab build techniques; dish rims are rolled for strength, handles are pulled from the pot as if they had grown there.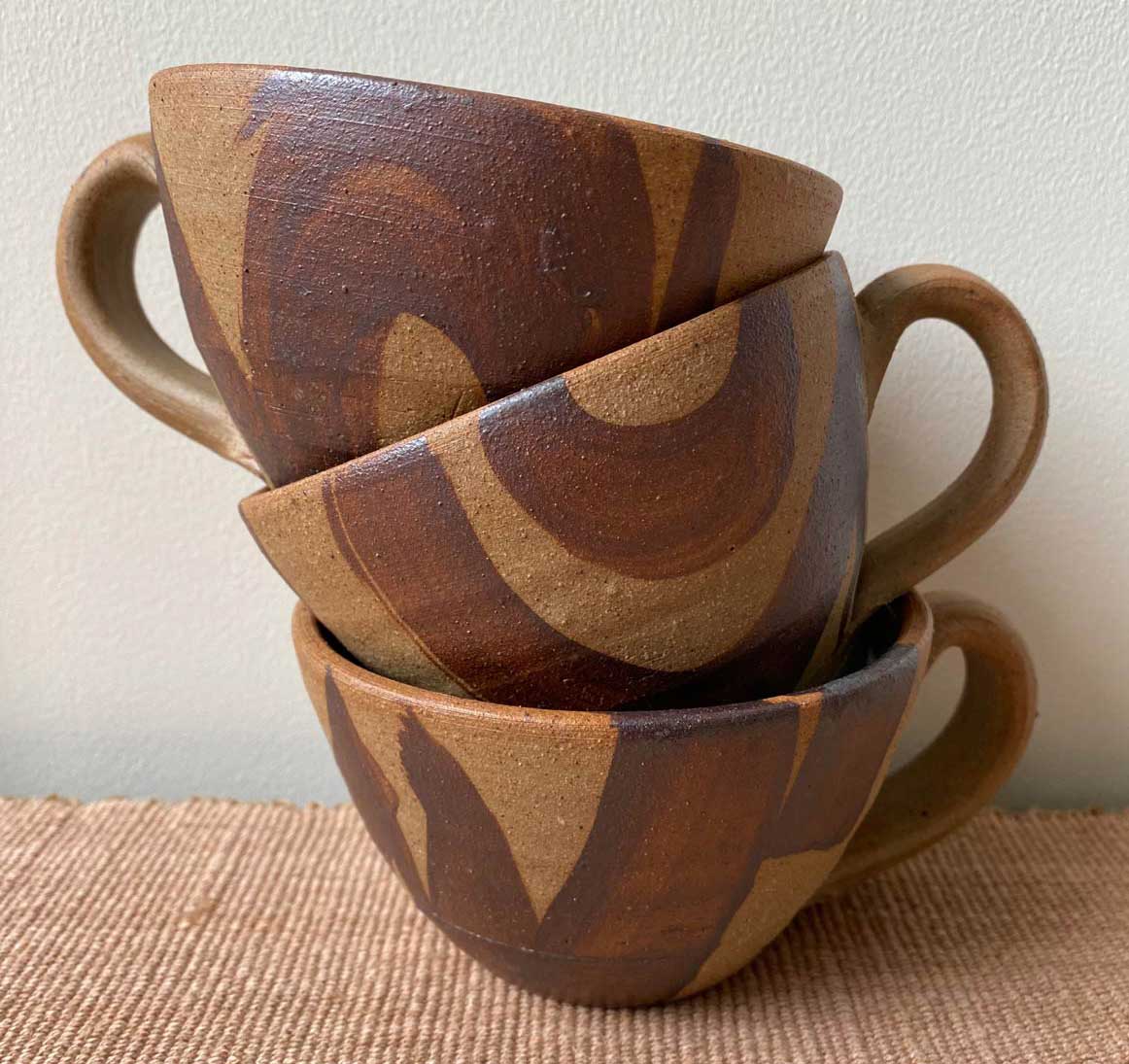 Based in Cardiff, ceramicist Jack Welbourne treats his morning coffee with reverence and has designed his cups, made from Cornish clay and pot ash to honour this.
"I enjoy discovering new coffee roasters and grind the beans myself, trying to find the more delicate and regional flavours that light-roasted, high quality coffee can offer. The open bowl shape of my hand-thrown coffee cup, cools the coffee to the point where all the flavours are at their fullest in about the time it takes me to finish my porridge.".
For those who enjoy herbal teas and tissanes, Jack's cups are also well suited to cooling the brew to drinking temp' perfection.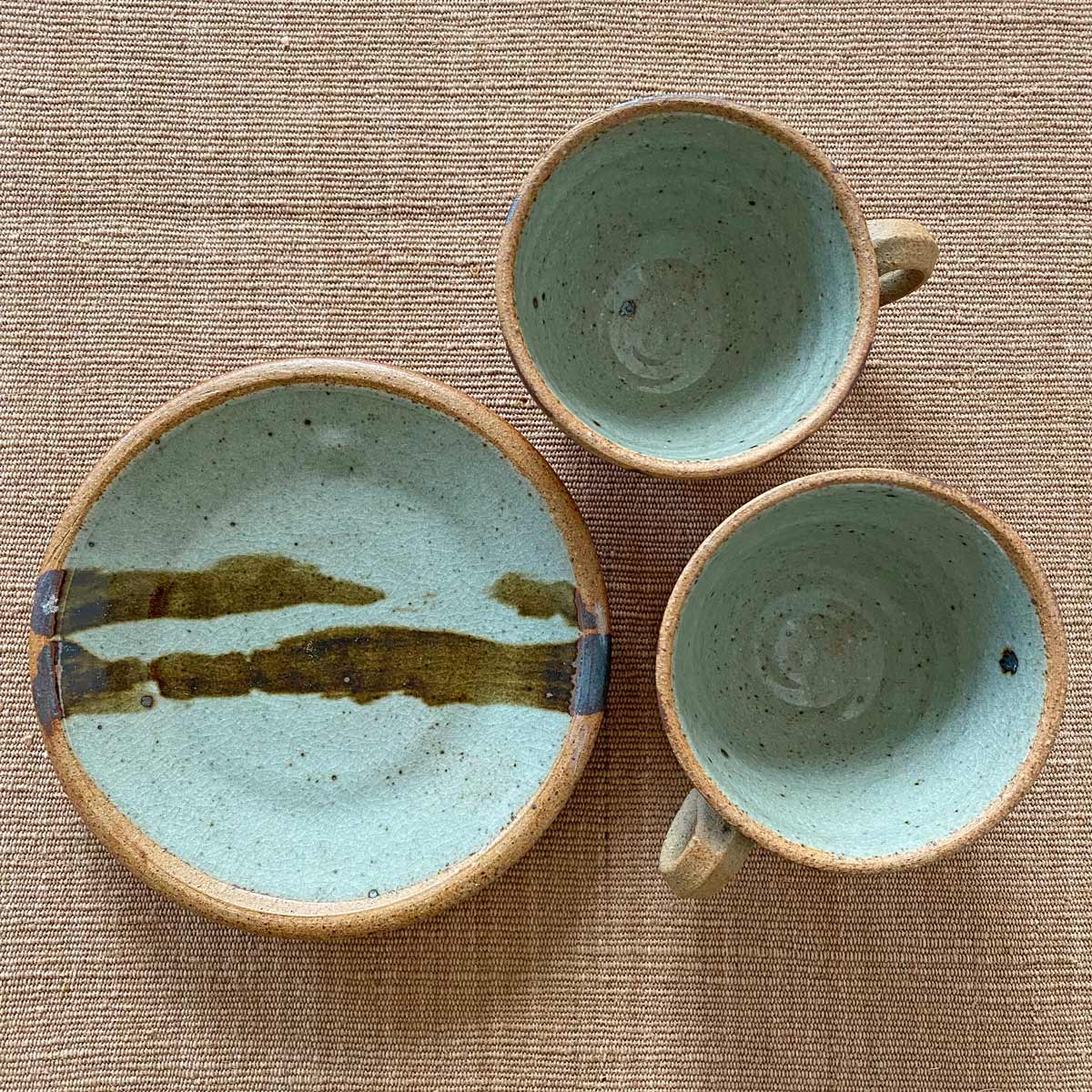 There may be some who are a little apprehensive about incorporating handmade tableware into daily life, however, like all good friendships, care and respect are important and your pottery will thank you for it. By following a few simple rules your ceramic pieces should offer steady companionship for years to come.
Pottery dishes and vessels are superb for retaining heat or keeping food chilled – they will certainly earn their keep on these points. However, it's important not to expose your tableware to sudden temperature extremes which can cause thermal shock, for example taking a dish straight from the oven and plunging into cold water, or by taking a frozen meal straight from the freezer into a blazing oven. These extreme actions may result in your dish cracking or breaking. It is best to allow the dish to cool or warm up accordingly before any next steps are taken.
Although superb at coping with surrounding heat, handmade tableware is not generally suited to being used with a naked flame so they are not compatible with being used directly on the stove top.
These handmade pieces will cope in the microwave and with occasional dishwasher use but taking the care to handwash your tableware is always recommended to keep the item in prime condition.
By keeping these points in mind your tableware should offer many years of good and faithful service. As my favourite mug will testify.