Sitting at a generous ash dining table she made in her sun-filled home near Ledbury, I asked Gudrun Leitz to tell me how she became a green woodworker. "I always knew that I had worker's hands, that I would do something with these" she said, offering them, open-handed. It took Gudrun some time to realise the privilege. She grew up in Stuttgart. At that time, in Germany, anything that looked back to a life on the land rather than forward to technology, was frowned upon; Gudrun's education was totally academic, the only respite being fondly remembered days out and holidays in the Black Forest, where her mother "came to life" and this large family enjoyed nature and the outdoors.
Gudrun came to Britain to study language and stayed, initially, for love. After three years as a language teacher she began to look around for other options, something that would be physical and use those hands. Luckily, London in the early 1980's was just the place to find a 10 week course like "Women's Introduction to Building" and of all the topics, joinery grabbed Gudrun's attention. Pursuing this spark, she enrolled at the London School of Furniture and completed a traditional City and Guilds course in fine furniture, working late shifts photo-typesetting for the printing industry keep the wolf from the door. Back then she band sawed elaborate shapes from large sections of kiln dried oak to fashion a traditional Queen Anne chair as her final piece of coursework. She was brave enough to let me photograph her end of course piece, kept hanging on the wall of her workshop as a reminder of the start.
Moving to Bristol in 1987 to help restore the "Pascual Flores" a 70 foot wooden schooner berthed in the harbour was an important milestone, " We did everything by eye, trees delivered whole to the quay, we looked for the right shape from the start, it was a revelation to me that one could work in that way" Gudrun explained. Her year on the boat was a joy, in the open air, working with highly skilled and experienced boat-builders. This was quite a contrast to her next job, working for furniture-makers in nearby Bath but using machinery and power tools to shape wood to a blue-print. The sound and space of a modern workshop, the work itself, became increasingly alien.
Around 1990 green woodworkers Mike Abbott and Tim Wade were becoming known for using unseasoned wood to make chairs in the same way that craftsmen like Philip Clissett working in Herefordshire in the late 19th century had done. Via a series of short courses, often as the sole woman, and later as assistant to Tim, Gudrun became more and more drawn to this way of life which combined the outdoors, use of hand tools and traditional craft processes. Soon she had been invited by Mike and Tim to run greenwood courses for women in their workshops and progressed to her own annual series of courses.
Her affinity with the convoluted grain of 'marginal' trees twisting to reach the light in often under managed woodlands led her to develop her own very recognizable style of working with these timbers, full of exciting curves and wild grain.
She often uses the term "freeform" to describe her approach. Her process may take a specially interesting section of wood as a starting point around which the design develops. She cleaves the section with axes and wedges to reveal mirroring components which are further worked with a variety of hand tools resulting in very organic three-dimensional shapes for components. Combined with selected ash, oak or elm planks she has often dried herself for up to ten years she fashions her distinctive free-form furniture, be that a garden seat, a rocking chair or one of her trademark large elm or oak tables.
In 1993 Gudrun won a contract to make 200 pole lathe turned balusters for the new Shakespeare's Globe on London's Southbank. "The Globe made my name, it was wonderful on every level". For this project authentic processes, true to the era, were a priority. As 200 increased to 500 balusters, trees were donated from all over the county including the National Trust at Lower Brockhamption; the job took three winters to complete and was an amazing feat for an individual.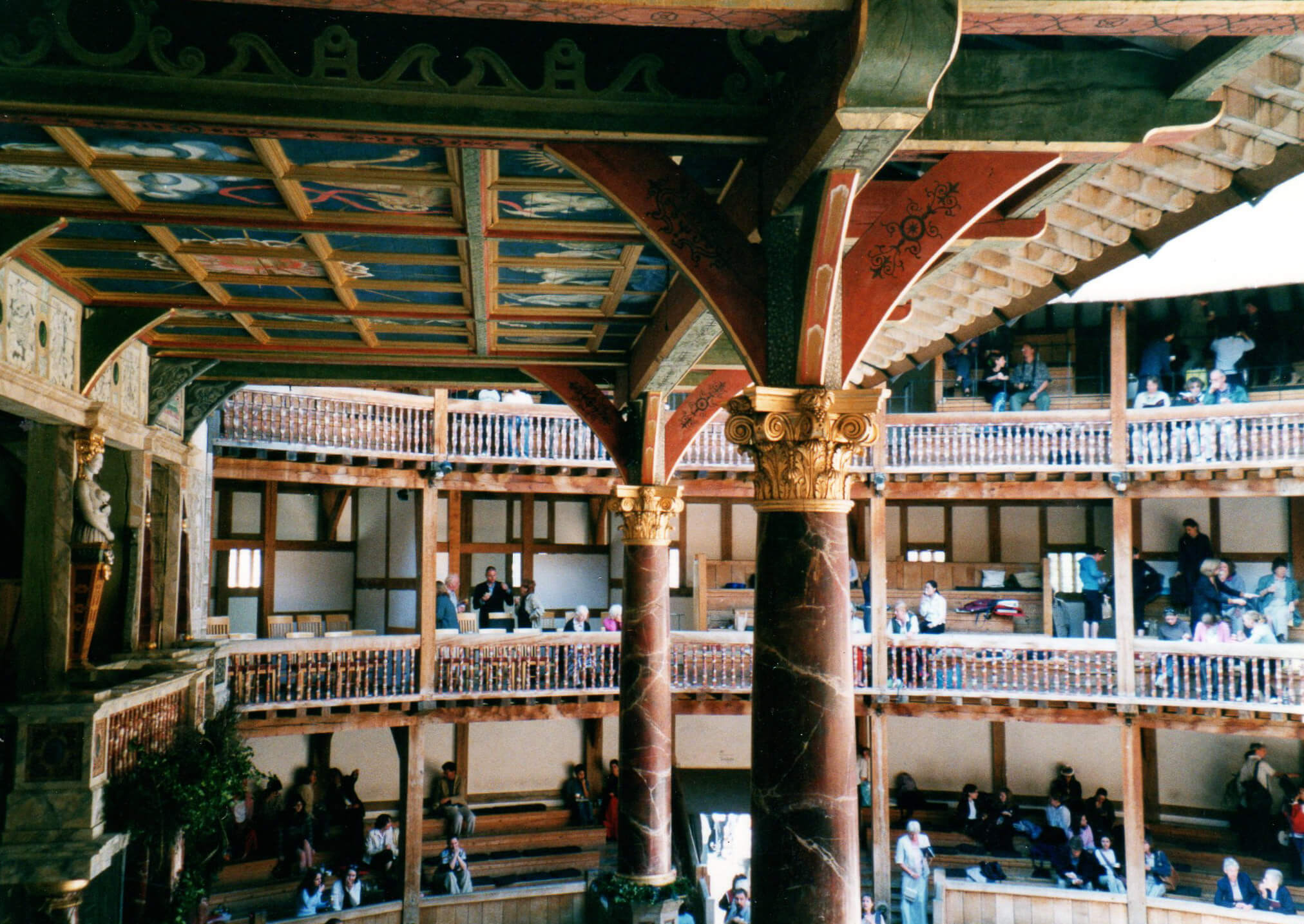 While working for the Globe, Gudrun began looking for a woodland to work and run her courses in, and with Mike and Tamsin Abbott and furniture maker Chris Armstrong from Clyro found a deciduous woodland close to Ledbury which became known as Clissett Wood.
The group of four soon expanded to seven and she has worked this woodland co-operatively with a changing group of partners ever since, as well as running furniture making courses for the last twenty years from her large woodland workshop. The courses have developed a loyal following and every year both newcomers and returners come to stay in Clissett Wood for up to nine days to make a very individual chair or other piece of furniture, either pole lathe turned or free-form.
The year's rhythm is fairly predictable, with the summer season being for teaching her greenwood courses, late autumn to spring for furniture making. "Luckily I can juggle to fit circumstances but I like to separate my own work and experiments in technique from teaching – eventually a new approach may become the subject for a course", Gudrun explains. "I usually have a few commissions on the go, these come directly or through a couple of galleries*  who show my work but I really love making pieces that are inspired by the wood itself. Now I am well established, people bring me interesting timbers and I like to use what is offered locally."
Cleaving is the basis of all green woodwork, but Gudrun takes it further into an exploration of very large trees as well as very convoluted sections. Nearby Childer Wood, sustainably managed and worked with horses by her partner Doug Joiner, gives her access to almost all her greenwood material. Using wedges, Gudrun is able to cleave even the largest oak trunks, firstly by splitting them in half and then in diminishing segments to whatever dimensions are required. Very little waste or woodland damage, no transportation as the timber is processed where the tree fell and anything not needed providing a habitat for wildlife.
Lately there have been exciting developments in Clissett Wood. Interest from highly regarded product designers, looking to study craft traditions, resulted in the greenwood project "Bodging Milano" with the resulting collection being shown at the Milan Furniture Fair, Salone Internazionale del Mobile 2010. Interest in fusing traditional chair bodging and contemporary design is on-going with some industry partnerships developing.
This just about brings us to today. An April-showery spring day in Clissett Wood, buds bursting and seven students –mostly new, one returning – with Gudrun teaching an introductory weekend course by helping the students put together some simple three-legged stools. We stood back. Looking hard, identifying timbers, assessing the parts, checking for stability, making adjustments, handling tools with increasing confidence and listening to the "after rain" birdsong.
When asked if she would consider doing anything else for a living, Gudrun said simply, " I realised long ago this (green woodworking) would be my passion for the rest of my life, there are so many directions to take. I don't know what the future holds and I consider that a privilege".
For course information go to Gudrun's website
For woodland management using heavy horses go to Doug's website
See Gudrun's Furniture at 20:20 Gallery, Much Wenlock or New Leaf Gallery, Monmouth.