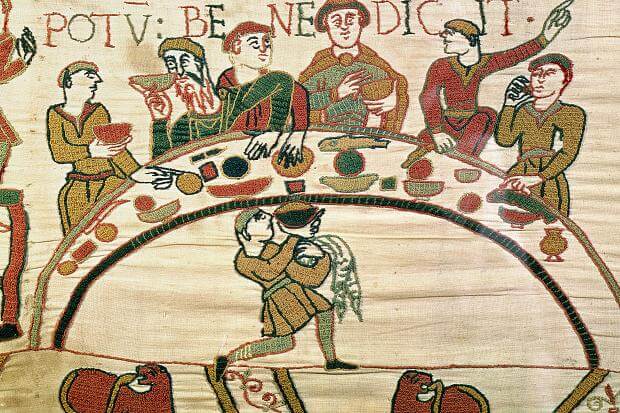 Bayeaux Tapestry, depicting the events of the Battle of Hastings and Norman Conquest in 1066, record of it first appears on the Bayeaux Cathedral  inventory in 1429.

Well, I thought I knew what was meant by Crewel Work, but there is debate amongst embroiderers, historians and enthusiasts. So, to be specific, I am describing raised embroidery on heavyweight linen or cotton using wool rather than silk or any other yarn. I say "raised" because the designs do not completely cover the back cloth, leaving a texture to the fabric. Traditionally, a rough pattern was marked on to the back cloth using either a pricked pattern and a pounce (a talc-filled bag, padded onto the pattern and allowing talc through to mark guides) otherwise the technique was "free" allowing interpretation and embellishments, in contrast to the thread-counted silk embroideries.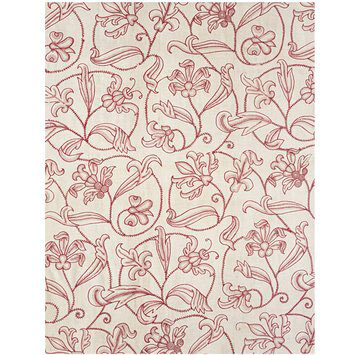 This curtain is from a set of bed hangings which, when pulled closed around a bed, provided warmth and privacy. They were usually the most important part of the bed, generally referred to as the 'furniture', and were often valued more highly than the wooden bed frames they decorated.
The curtain is embroidered in a technique known as crewel work, from the crewel or worsted wool used. Crewel work was popular through much of the second half of the 17th century, and was used extensively for bed hangings. It was usually carried out on a strong ground fabric of linen and cotton twill. The embroidery is worked in stem, satin, coral, herringbone and link stitches.
Needlework was a skill taught from early girlhood in 17th-century Britain. Adult women might earn their living from it, or use it in the upkeep and decoration of their households.
The seventeenth century was a high point in the production of crewel and it is often referred to as Jacobean embroidery featuring highly stylized floral and animal designs with flowing vines and leaves. Many of these would be exotic and incredible to their audience. The term "Crewel" is thought to be derived from curl, meaning the staple or average length of fibre used to spin into the yarn used for such a technique.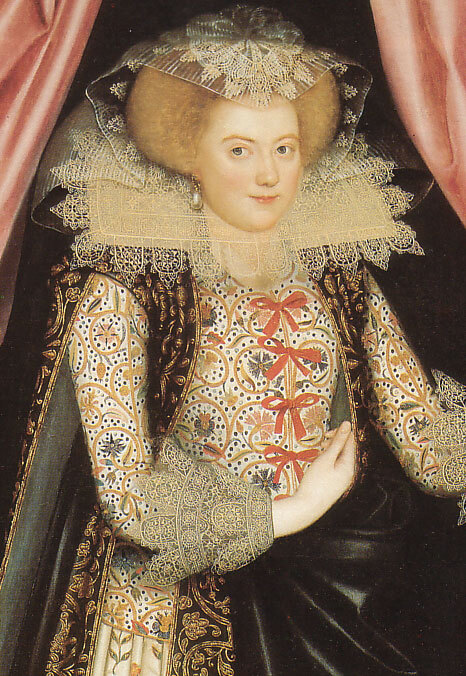 Image traditionally called Dorothy Cary, later Viscountess Rochford, c. 1614-1618 showing richly embroidered waistcoat.

Outlining stitches such as stem stitch, chain stitch and split stitch create areas that are often filled with satin stitch, using tonal graduations to give the impression of shade and light. Occasionally couched stitches (where one thread is laid on the surface of the fabric and another thread is used to tie it down and create a trellis effect), Seed stitches and French knots embellish the overall design.
The crewel work of the 17th century was used lavishly for bed drapes and wall hangings – it was a time of affluence in Britain and, with the establishment of trading links via the East India, crewel work began to be produced in Asia. A wave of interest also carried across the Atlantic to America and there are many fine examples of crewel work appearing in the USA in the 18th century up to the time of the revolution.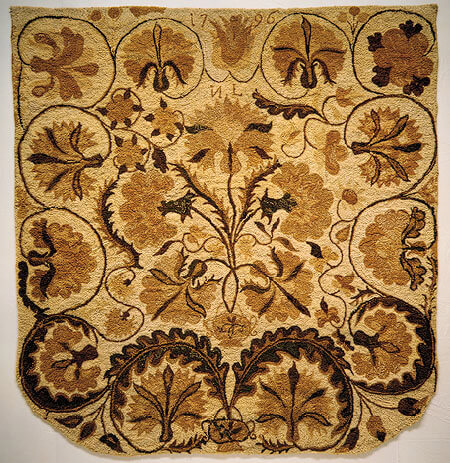 Bed rug, 1796
Maker Unknown (American)
Colchester, New London County, Connecticut
Linen/cotton and wool;
The Arts and Crafts Movement of the late 19th century next saw a revival in the UK. Led by William Morris, the movement believed in going "back to the earth" and his marriage to Jane Burden and the establishing of their home was the pivot that steered Morris to his devotion and study of the decorative arts.  In particular, Morris invested time in producing natural dyes to provide soft shades of blue and green woollen yarn. Morris expanded medieval design to reflect his generation and need. The long and short stitch was nicknamed the Kensington stitch and a cottage industry was formed to produce the embroideries.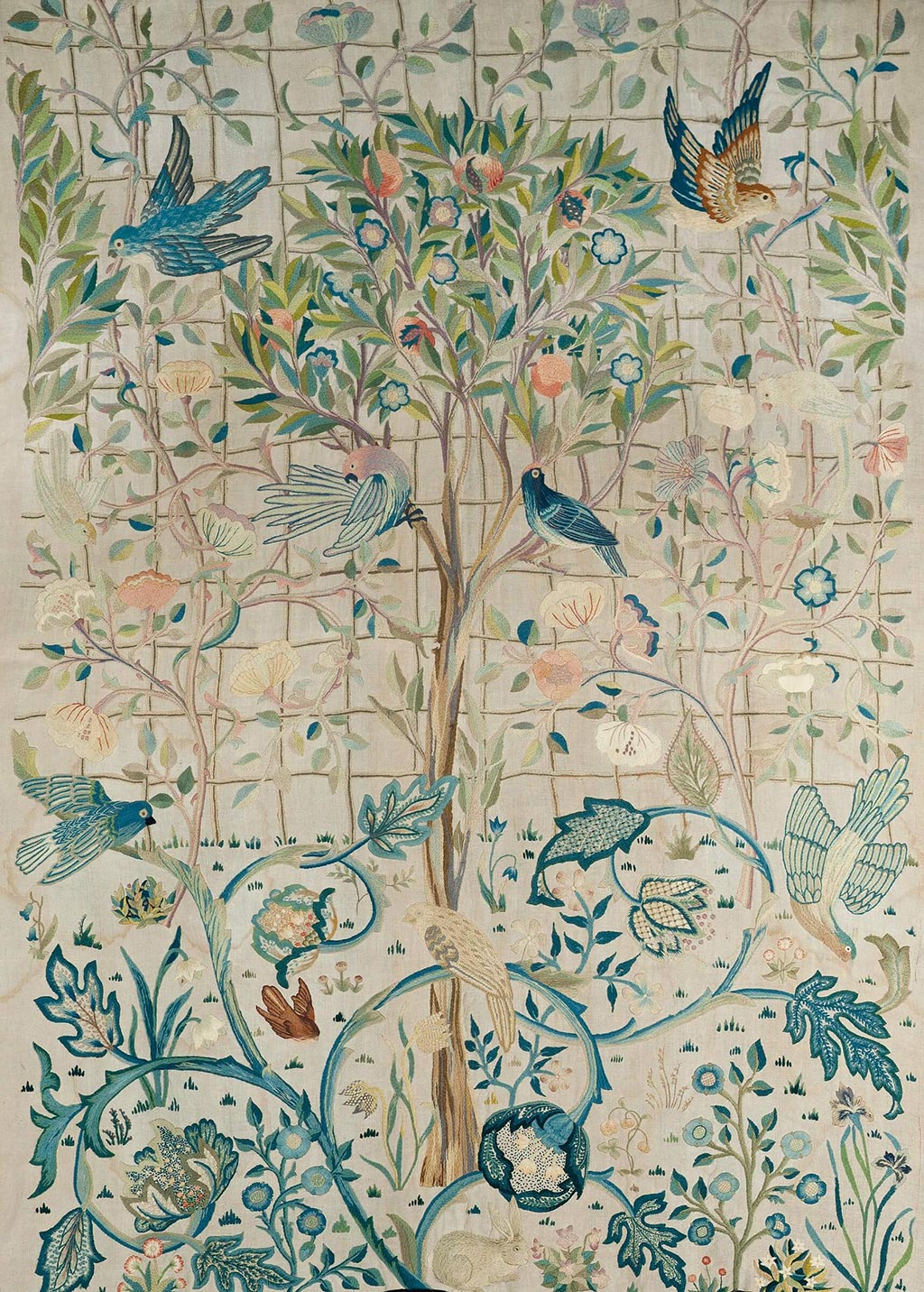 Embroidered hangings or bed curtains designed by May Morris (1862-1938) in 1891-2 and stitched between 1898 and 1902. Worked in crewel wools on natural linen in stem stitch with satin, chain, running and knitting stitches and French knots, the ground is of narrow widths of hand-spun and woven linen with the edges butted and seamed prior to embroidery.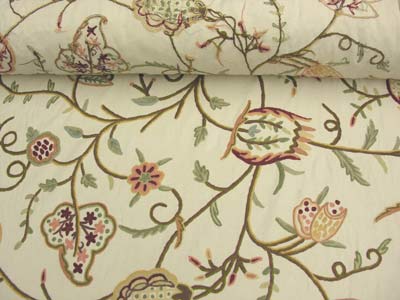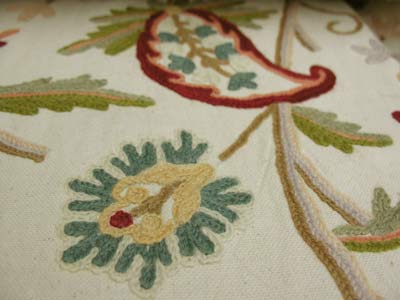 When we, at Tinsmiths, found a supplier of crewel work fabric a couple of years ago, we decided to offer the fabric on the basis that it has a weirdly austere luxury – a contradiction in terms but one that describes a cloth that is quite distinct from any other.
You can find our "Hall" fabrics Berrington & Morants in the patterned fabric area of our on-line fabric shop. If you are inspired to sew some crewel of your own, linen backclothes can also be found in our web-shop. We would suggest using a linen such as Wholemeal, Highland or Linen Flax.