This is just the day, as it is about to snow, to talk about UK Wool. Wool is such a great fibre with very useful qualities; hard-wearing as an upholstery cloth, light and warm to wear. Natural wools are lovely in themselves and dyed fibres work well to give soft, mottled colours that are easier on the eye than fibres that take dye uniformly.
In the past wool has been an expensive alternative to linen or cotton, but, as prices have risen for these imported fibres, our home-grown wools are becoming a realistic option once again. Lengths of checked (I don't think they qualify as tartans in the strict sense) and plains are leaving Tinsmiths to become curtains and to grace furniture, whilst others are perfect for clothing – see made to measure jacket (by Kate Hickson, Tinsmiths' former Shop Manager) below.
Our Woollen cloth section is set to swell in the forthcoming months, so look out for new woollen fabrics on the roll – UK farmed, spun, dyed and woven – wool is really worth a thought.
Above: top left: Moss Herringbone, top right: Wexford Berry, bottom left: Blanket by Wallace and Sewell, bottom right: Blankets by Sarah Tyssen.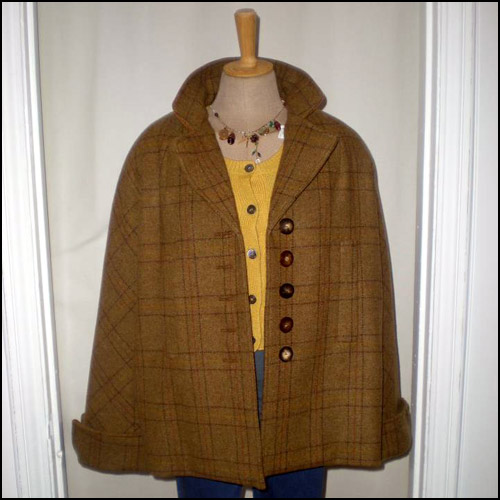 Above: Woollen Jacket made by Kate Hickson