One of Tinsmiths' regular suppliers of cards, Art Angels, have produced a brilliant selection of cards using textile designs from the V & A archive.  The museum approached Chris Cordingly from Art Angels in advance of this Spring's exhibition at the V&A,  British Design 1948–2012, an exhibition which links design through from the last Olympic games held here through to the forthcoming games this Summer.
Recognised for their work with contemporary artists with stylistic links to "Festival of Britain" era,  Art Angels are a natural choice of partner for the Museum. "We had several meetings, met with the staff responsible for licensing etc and were allowed access to the textile archive to weigh up the most suitable examples. I had anticipated a long protracted process but museum staff were very amenable and I think we have ended with a selection that reflects a significant movement in textile design of this era".
The new cards include a group of furnishing fabrics by Lucienne Day and remind one of the importance of relationships between commissioning organisations (eg., Heal's, British Celanese, Edinburgh Weavers, Liberty) and artists. Something that has been all but lost in today's textile industry – with the exception of St. Jude's. We love to have these on display amongst the fabrics in Tinsmiths' showroom and really appreciate the work that Art Angels work do with contemporary artists as well.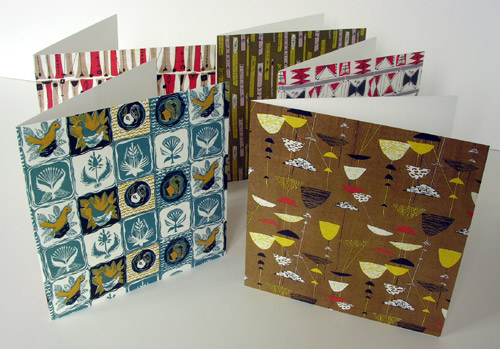 From the left: Spring Morn by James Wade, screen-printed linen for Heal's 1952, Palisade (to the rear) by Lucienne Day, screen-printed rayon-taffeta for British Celanese Ltd 1953, Flower Show by Lucienne Day, screen-printed cotton for Heal's 1954, Fritillary, screen-printed linen for Liberty 1954 and Calyx by Lucienne Day, furnishing textile screen-printed linen for Heal's 1951.