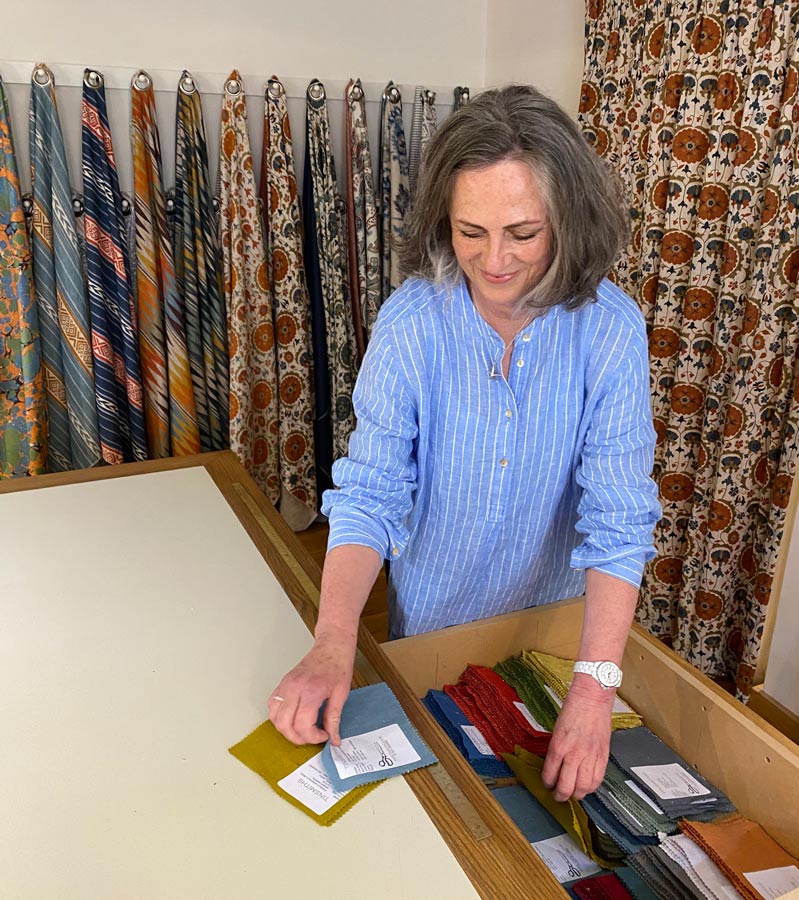 Let us introduce you to the latest member of the Tinsmiths team, Nicki.
Since she joined us in the Autumn of 2021 following the minor relocation and reopening of our fabric showroom, Nicki has taken on much of our bespoke Made to Measure service and is on hand to help with fabric orders, measuring-up queries and bespoke enquiries. Fabric showrooms are not an unfamiliar environment for Nicki, after landing a summer job at Liberty in her early 20's it wasn't long before her life-long love affair with textiles began. She has worked her way around the sales side of the textiles and fashion industry, honing knowledge from a stint with a luxury silk scarf printer in Como, Italy as well as running Ian Mankin's shop on the Wandsworth Bridge Road. Nicki started a family and moved to Bahrain where she uncovered a soft spot for middle-eastern and oriental textiles, collecting thick-pile rugs and other unusual homewares.
Herefordshire is a part of the world that Nicki has always been familiar with, having lived in one of Ledbury's most admired houses as a teenager. She now divides her time between her house in rural Herefordshire, looking after her bees, sewing from old Vogue patterns and manning our Fabric Showroom.
Suffice to say we are thrilled to have Nicki as the newest member of our team. We quizzed her about her favourite Tinsmiths fabrics and the advice she would give our fabric customers…
Q&A
Favourite Tinsmiths Fabric?
"Bukhara in Pastille at the moment, I love the colours in it!"
Modern or traditional interiors?
"Traditional but with a contemporary twist."
Something you have sewn or made?
"My most recent hobby has been silversmithing and I made a pair of earrings which I wear everyday now!"
Plain, stripe or floral fabric?
"Floral! I love big, blousy florals and lots of colour."
What would you grab from your house if there was a fire?
"My Syrian inlaid Wedding Chest"
Best way to spend a day in Herefordshire?
"A visit to Hellens Manor and a walk along Marcle Ridge"
What is your dream scheme in the Tinsmiths Fabric collection?
"I love the Karabair fabric, so probably one of those as curtains or a blind! A little bedroom chair in the Alpha Stripe in Cyan; it's such a good stripe for a chair, and cushions in Washed Linens."
Do you collect anything?
"Vintage Bisque wedding cake decorations, mostly from the 1930s. They are so sweet, I have some of my granny's."
What is your favourite piece from your collection?
"They are nothing special but I love the shoes."
How would you spend a summers evening?
"Watching my boys play cricket."
What would be your advice for someone struggling to choose a fabric?
"Take samples! Always start with a small selection of swatches and go from there, think about designs and colours that you would find easy to live with rather than trends or things you have seen online!"